Board of Trustees Announce the New President
Former Jesuit Principal Fr. John P. McGarry Appointed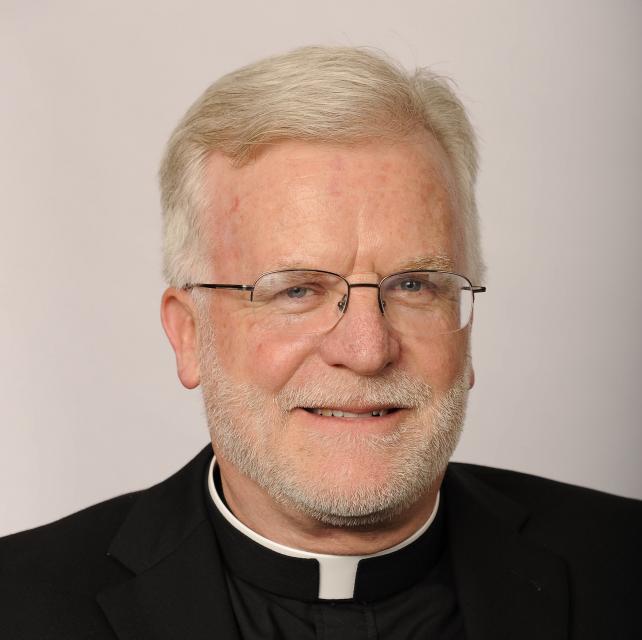 Jesuit High School of Sacramento is pleased to announce that the Board of Trustees has unanimously appointed Rev. John P. McGarry, S.J., as the school's new President. Father McGarry will begin work at the beginning of the 2018-19 school year. Mrs. Lorraine Paul will continue to serve as interim President until then.

"We are excited and fortunate to have Fr. McGarry return to Jesuit High School as our next President," said Richard Shanahan, Chairman of the Board of Trustees. "He brings a wealth of experience as a leader in Jesuit education that will serve the school well as we move forward in forming competent young men into conscientious leaders in compassionate service to others. We look forward to his inspired leadership."
 
Father McGarry is well known to the Sacramento Jesuit community, having served as a teacher, Assistant Principal, and Principal from 1997 to 2005 and as a Trustee from 2012 to present (though he has abstained from any Board participation in the President search and selection process). Prior to Jesuit HS, he worked in secondary education from 1986 to 1997 as a teacher and director of campus ministry at Loyola High School (Los Angeles) and Brophy College Preparatory (Phoenix).

Currently and since 2012, Fr. McGarry serves as Rector of the Jesuit School of Theology of Santa Clara University. He will finish a six-year term there at the end of this school year. From 2005 to 2011, he led the California Province of the Society of Jesus as its Provincial.
 
Father McGarry holds a Master of Arts in School Leadership/Private School Administration degree from the University of San Francisco, a Master of Divinity degree from the Jesuit School of Theology, and a Bachelor of Arts degree from Gonzaga University. He also serves on the Boards of Trustees of USF and Brophy Prep.
 
"I look forward to the opportunity to return to Jesuit High School, and I am grateful to the members of the Board of Trustees for their confidence in me, and to current President, Lorraine Paul, who I will be working closely with for a smooth transition," said Fr. McGarry. "I am also excited and eager to serve the school and to collaborate with the Board, administration, faculty, and staff, in continuing to advance the mission of Jesuit education in Sacramento.  Most especially, I am grateful to God to have the opportunity, as a Jesuit and a Priest, to serve as President of a school that I love, and a community of people about whom I care deeply. Jesuit High School is blessed with generous benefactors, committed alumni, and parents, and it will be a pleasure to work daily to help in providing for the education and formation of the young men entrusted to the care of the school."
 
Father McGarry's appointment follows a rigorous search process during which the President Search Committee considered many highly qualified individuals. Jesuit thanks the members of the committee for their talents and diligent and time-consuming effort in recruiting and finding an excellent candidate.
 
The Sacramento Jesuit community congratulates Fr. McGarry on his appointment and we look forward to his arrival.