Aaron Engebretson, S.J.
Theology / Director of Liturgy Workshop / JV Golf Coach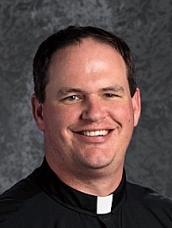 I was born and raised in Montana and entered the Jesuits in 2004 after finishing my B.A. In History. I was a novice in Portland, OR and took first vows in 2006. Then I was sent to the University of Toronto to study philosophy and I also earned an M.S.ed at Canisius College is Buffalo, NY. Next, in 2009, I was sent to Bellarmine Prep. in Tacoma, WA where I taught history and coached golf. In 2012 I was approved for theology and went to Boston College where earned degrees in theology and educational administration. Here at Jesuit, I will be teaching history.
Education:
B.A. History, Carroll College, 2004
DPhil, Regis College University of Toronto, 2009
MsEd., Social Studies Instruction, Canisius College Buffalo, 2009
MDiv., Boston College, 2015
Med. Secondary Education Administration, 2015
First year working at Jesuit: 2015