Fred Khasigian
Rugby Director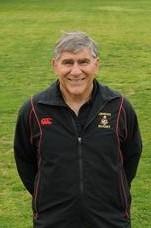 Fred is the director and head coach of the Jesuit Rugby Program. He began the program in 1997 and has grown the program into a National powerhouse, with over 140 boys participating in two different leagues, at the Varsity and JV levels. Coach Khasigian's other coaching venture outside of Jesuit, was in 1996, with the Ashton RFC.
Coach Khasigian earned his AB Degree from the University of Southern California in 1970 and his Medical Degree in 1974. He also earned his MBA at California State University-Sacramento in 2003.
While at USC, Fred participated in both rugby, 1968-1969, and football, 1966-1970. He also played rugby at the Santa Monica Rugby Club from 1970-1976 and the Sacramento Men's Club from 1989-1996.
Fred has continued his growth in the medical profession and has affiliations with the American Academy of Orthopedic Surgeons, the American Sports Medicine Society, and the Qualified Medical Examine. He has also continued his growth in the sport of rugby by attaining his USA and NYCRA coaching credentials. He is also a certified rugby referee.
Coach Khasigian has experienced much success as a player and coach. He won the Rugby Club National Championship with Santa Monica. In 1967, he won the Collegiate Football National Championship with USC, and had three Rose Bowl starting appearances from 1968-1970.
Fred has led the Marauder teams to seven National High School Championships in 1999, 2004, 2006, 2008, 2009,2011, and 2013.
Coach Khasigian's coaching philosphy is to develop the Jesuit students to their fullest potential by positive reinforcement and participation that gives them positive feedback and confidence in all aspects of their school experience and future endeavors.
Fred has two great coaching memories. The first was in 1999, with the semi-final win against Highland, 15-14. It was called the "Miracle on Grass" and possibly the biggest upset in high school rugby history. The second was in the 2006 National Championship game versus Highland. The 19-13 victory was a complete team effort and told the world that we could beat Highland repeatedly.