Fr. Joseph F. Barry, S.J.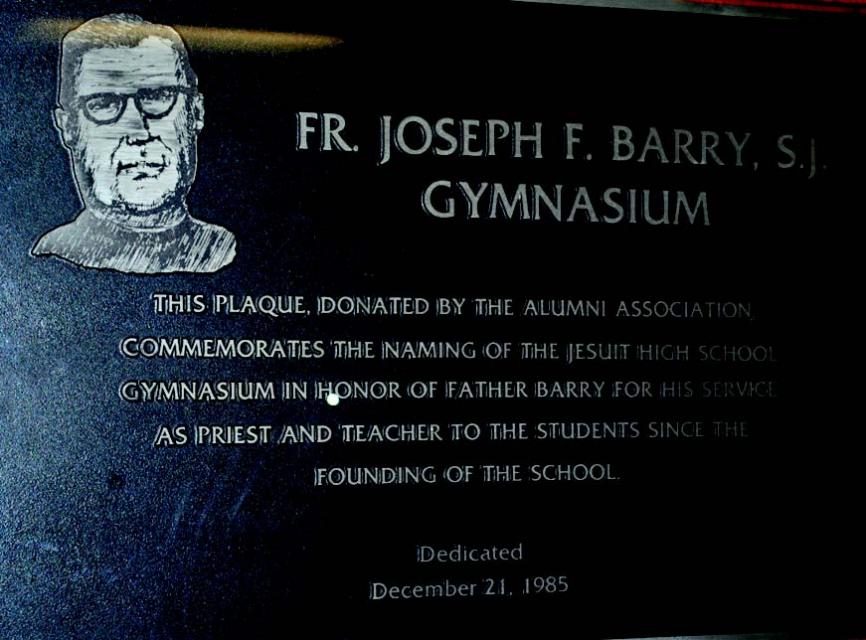 This is the fortieth year of Jesuit's annual Christmas basketball tournament. Originally named the Christmas Classic, it was renamed the Fr. Joseph Barry Christmas Classic in 1988.
Father Joseph Barry, S.J. was born and raised in San Francisco. There he attended St. Ignatius High School and later entered the Jesuit Order in 1935. Prior to coming to Jesuit High School, Fr. Barry also taught for many years at Loyola High School in Los Angeles.
His contributions to Jesuit High School were impressive. Father Barry taught physics and mathematics to a generation of students. He ran the campus bookstore and was one of Jesuit athletics' greatest supporters. He also took on the responsibility of Director of Grounds and is still largely responsible for the beauty of Jesuit's campus today. It is estimated that he planted more than 500 trees and established a lush landscape notable for its flowering shrubs and roses.
Father Barry was known to be a great sports fan and basketball was a particular favorite. He volunteered to run the clock for home basketball games and some say that that helped to keep his enthusiasm in check.
Father Barry's love for basketball led him to suggest a basketball tournament that has now become a holiday classic. He wanted a tournament made up of Catholic schools in order to showcase their contributions to prep sports. The success of this tournament is due primarily to the efforts of Fr. Barry during its first ten years.
In addition, Jesuit High School's gymnasium was also dedicated to Fr. Joseph Barry, S.J. on the occasion of his golden Jubilee as a Jesuit in appreciation for all that he had contributed to the school since its opening in 1963.