Breakfast and Lunch are Pre-orders only!
No in-person/cash food purchases. All pre-orders must be placed then by each Thursday evening for all following weeks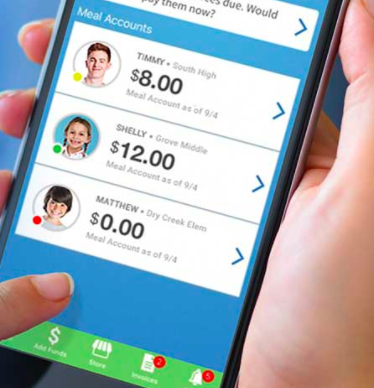 Parents and students, please note that at this time, meals must be pre-ordered.
The deadline to order is Thursday for the following week. Cash is not accepted. A few limited items, such as breakfast burritos, yogurt parfaits and fruit cups, are available each day for on-the-spot purchasing in the Harris Center; however, students must use funds on their MySchoolBucks accounts in order to pay for these items.
Breakfast pre-orders should be picked up in the Harris Center and will be available starting at 8:00 a.m. On testing days, students must complete their screening and obtain their report before entering any building, including the Harris Center.
Lunch pre-orders should be picked up in the student's designated class lunch pick-up location.
Welcome to ONLINE ORDERING!
Epicurean Group hopes you will enjoy our menus and food selections. We know that tasty and nutritious food can help boost concentration and morale, too, which is crucial for well-being! Our meals are packaged and labeled according to HACCP standards, in compostable packaging. Our primary concern is the health and well-being of the students, campus community and employees.
Epicurean Group requests your support in going fully online for meal ordering this school year. We are implementing a new, easier to use, CASHLESS online ordering system that will allow you to pre-order meals for your student. The weekly lunch order deadline is Thursday at midnight for the following week. Please note: At this time, cash will not be accepted.
Get Started Today
Go to myschoolbucks.com
If you are new to MySchoolBucks, create your free account, then add your students using their legal name and date of birth (you won't need to know their student ID number). For existing users, continue to use the same account as last year.
View meals on our online store for Jesuit High School and choose from our varied menu options. A friendly reminder: Students are on campus only two days per week in the hybrid schedule starting Oct. 20.
Select the items you wish to purchase – pay now with your credit card, or have it deducted from your student's account (account charges are processed every Friday for the following week).
Add the meals to your basket.
Check out and pay with your credit card, E-check, or by deduction from your account – make sure you have enough money to cover your purchase!
Meals will be available for pick up at a grade-level designated site (this will be assigned by Jesuit High School).
This online option eliminates physical cash and check handling that would typically happen in the café serving line. It will also allow us to ensure that your child's meal is ready at their designated pickup location (Jesuit will assign locations by grade level).
If you need assistance with your account, you can find helpful how-to videos and answers to commonly asked questions by visiting myschoolbucks.com or by logging into your account to start a chat conversation. You may also call them at (855) 832-5226.