Nick Adams '20
VPA Student Spotlight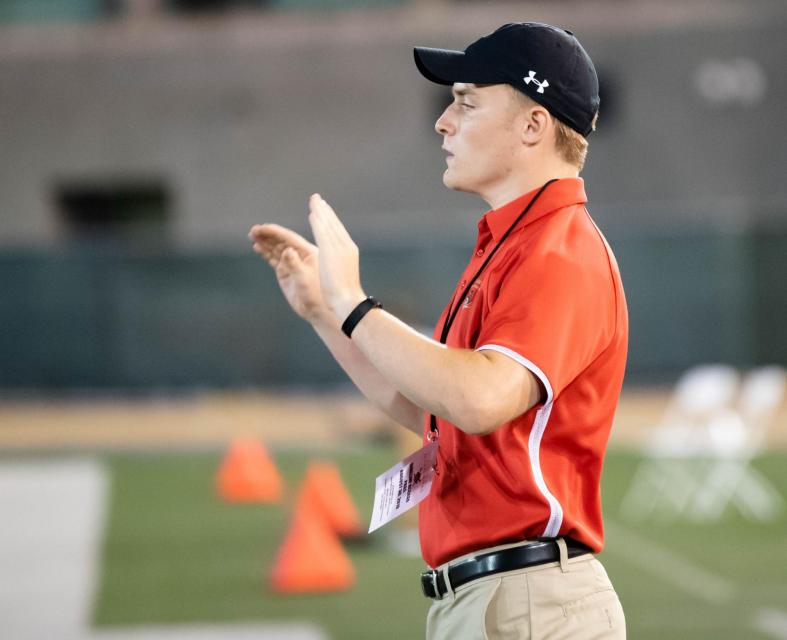 "A few months into my first and only year as a rugby player, I suffered a concussion. With this newfound time at home, I sat down at the computer and composed and recorded my first complete song, 'Rise Like the Phoenix.'"
It is safe to say that I did not come to Jesuit expecting to be as involved in music as I am today. I had been playing the guitar and trumpet for years, but I was much more interested in being a soccer player at Jesuit. I was reluctant to join band, but after quite a bit of pressure from my mom, I agreed to take part in it for at least one year. My dreams as a soccer player were not meant to be, as I was cut from the team during tryouts. Still trying to figure out exactly what I wanted to do on campus, I decided to try out rugby. A few months into my first and only year as a rugby player, I suffered a concussion. With this newfound time at home, I sat down at the computer and composed and recorded my first complete song, "Rise Like the Phoenix." From here, I came to realize that I wanted to record and play music for the rest of my life.
Now, two and a half years after "Rise Like the Phoenix," I am more involved in music at Jesuit than I thought was possible. I am currently the drum major for the JHS Marauder Band, a trumpet player in the Symphonic Band, the guitarist for the Jazz Band, the guitarist and a singer for Liturgy Workshop, and recently formed a "Musician's Club" on campus. Beyond these, I have also played guitar in two 80s rock cover bands and continue to write and record my own music just about whenever I have the time. I am also enrolled in AP Music Theory this year. I hope it will help me in my future career.
I am especially proud of the new heights I have been able to take the Marauder Band to this year. We performed our biggest, longest, and most complicated field show ever at Jesuit's home opener against Folsom. We are currently meeting after school three days a week to prepare for our first parade competitions, with our first one in Franklin on October 12th. The marching band program at Jesuit is only five years old, and I am very pleased with the positive influence I have been able to have on its continued growth. I am very thankful for Mr. Cargile and everyone else on campus who has helped me do the best I can for the everlasting development of the school's band program.
After my time at Jesuit, I intend to study music production in college. When I finish college, I hope to take everything I learn there and combine it with the skills I have picked up at Jesuit and start a career as a music producer.
Student Spotlight from Fall 2018