2018-2019 Christian Service Program Goals and Policies
Updates for Students and Families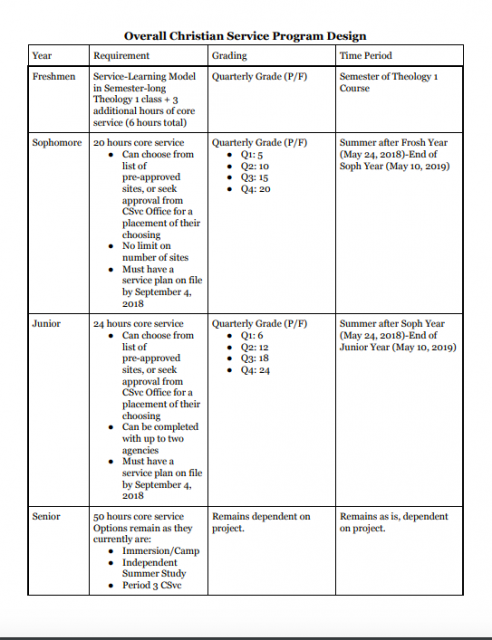 Jesuit High School is a Roman Catholic college preparatory dedicated to forming competent young men into conscientious leaders in compassionate service to others for the greater glory of God. Through selective, intentional direct service and structured reflection on their action, the Christian Service Program at Jesuit High School seeks to assist in the formation of graduates who embody the profile of a graduate of a Jesuit school at graduation. Namely, students will be: open to growth, intellectually competent, religious, loving, and committed to doing justice.
The Christian Service Program is designed to form students as men for and with others. We provide a program structure that:
Creates opportunities for students to experience solidarity with people who are poor and marginalized;
Encourages students to attend to and understand the needs of the created world;
Supports students in the development of habits of reflection and skills of social analysis that help them work for social change;
Assists students in connecting their lives of faith, Catholic Social teaching, and the needs of the communities of which they are a part.
Christian Service Program Basic Guidelines
All service must be completed with an existing non-profit organization in the community and must be supervised by an adult who is not a relative.

Students may choose from a pre-approved site listed in the Google Doc on Google Classroom.
Students may propose a site and serve there, pending department approval. The link for such a request is available in Google Classroom.

All service submitted for graded credit needs to be completed as core service (projects in which students are significantly engaged with people experiencing poverty, physical or developmental disability, isolation due to old age, or service that promotes environmental justice). No more than 50% of the year's requirement can be completed through projects promoting environmental justice.
Sophomore, Junior, and Senior (depending on program option chosen) Christian Service commitments can be started during the summer preceding the school year in question.
All other types of service (e.g., indirect service, fundraisers) can count towards the student's Magis Service Record. Any student who has completed 200% or more of the required hours (including the full graded requirement) by the end of a school year will receive special recognition.
Grading
Grading will continue on a Pass/Fail basis with quarterly benchmarks. Exact dates will be updated once the 2018-2019 calendar is finalized.
All service will be tracked through the student's MobileServe account. An orientation to this platform will be provided for all students in class in April and May 2018. Students with questions should contact Ms. Brabec, Director of Christian Service (sara.brabec@jesuithighschool.org) or visit https://info.mobileserve.com/help-page-main.

Please note: paper hours verification forms will no longer be accepted.

All additional Christian Service assignments (e.g., Service Plan, reflection prompts, Christian Service Site Proposal Form) will be distributed and collected through Christian Service Google Classroom pages. Students received the code during their orientations in April and May 2018. They should contact Ms. Brabec with any questions or to be added to the class.
If a student wishes to be involved in a significant project that falls outside the bounds of the a grading period, the student may submit a Deadline Extension Request Form. After reviewing the information provided, as well as the student's Christian Service history, the Christian Service Department will notify the student of the status of his request.

Please note: this mechanism is meant to support students who have plans to participate in substantive service projects that fall outside of the grading period. It will not be used to extend deadlines for students who simply did not plan service in a timely manner. Requests will not be considered in the two week window leading up to each quarter's deadline. The deadline for Quarter 4 cannot be extended.
Additional Service Policies
Service that directly benefits Jesuit High School (e.g., President's Dinner, Crab Feed, PACE Auction and Gala, Parent Dinners) is not accepted for service credit through the Christian Service Program.

Please note: some such volunteer opportunities might qualify for VIP Service credit. Please see the Advancement Office for questions regarding the VIP Program.

Ministry or volunteer work during religious services (e.g., altar serving, lectoring, eucharistic ministry, music ministry, or any other activity during a worship service) is not accepted for service credit. JHS believes participating in religious services is an important ministry as part of a faith community, and encourages students to engage in such projects. These particular activities fall outside the objectives of the Christian Service Program, and as such, are not accepted for service credit.
Service through or with a business or for an individual person is not accepted for service credit. Only service with and through existing nonprofit organizations will be accepted for service credit. This guideline is in place to help keep students safe and to make sure their time is being put to good use.
Helpful Links:
The attached image provides a visual breakdown of the four-year Christian Service sequencing.
Please contact Sara Brabec, Director of Christian Service, with any questions: sara.brabec@jesuithighschool.org.