Bell Schedule for Second Quarter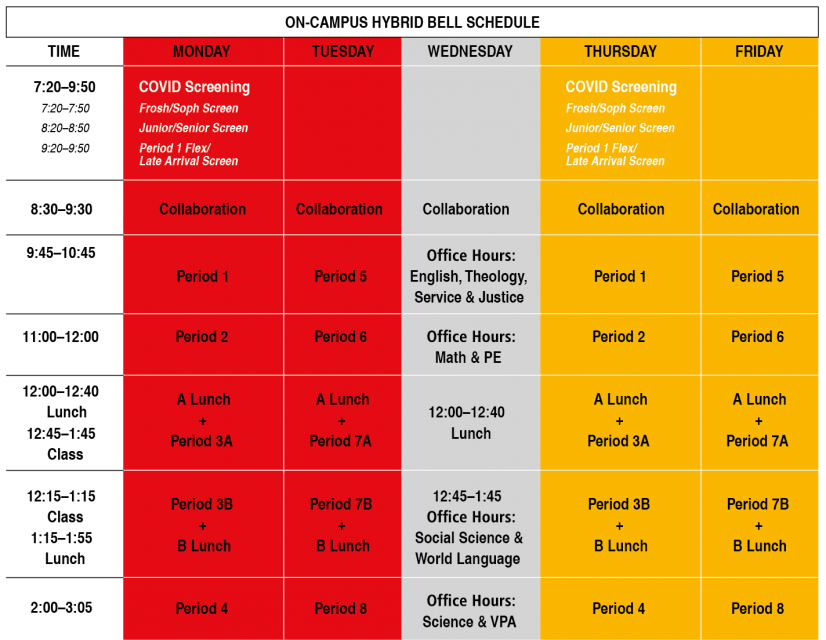 Screening Arrival Times
Please allow at least 40 minutes for your screening. Do not come to campus if you or a family member are experiencing symptoms.
7:20-7:50 am Freshmen/Sophomore
8:20-8:50 am Junior/Senior
9:20-9:50 am Period 1 Flex/Late Arrival Screen
Hybrid Model
Students will be divided into two groups (Red and Gold). The division of students into these cohorts has been designed to ensure a mostly even split for class sections. With the smaller class sizes achieved by now having an 8 periods schedule, most classrooms will have fewer than 10 students at any time.
In this model, the Red group will attend classes on the first cycle of classes (usually Monday and Tuesday) after they complete their COVID screening on the first day of the cycle (usually Monday). The Gold group will attend classes on the second cycle of classes (usually Thursday and Friday) after they complete their COVID screening on the first day of their cycle (usually Thursday). This model will help minimize risk by screening each student prior to his arrival to class. Please reference the daily rotation in the updated academic calendar.
Red and Gold Rotation Assignments
The mechanics of dividing the groups evenly in order to achieve balanced classes means that we cannot take requests to switch between the Red and Gold groups. We have, of course, ensured that siblings are in the same group. We know this will cause problems for carpools, after school activities, friend groups, and more. However, to ensure a return to campus using the best virus mitigation practices and class size within all grade levels, subjects and periods the assignments can not change. These assignments will be emailed to students on Monday, October 5.
4 Period Day
Four periods will meet each day. They will follow a simple and predictable rotation. Students with flex periods during the first or last period will be allowed to come to campus late/leave campus early to minimize students on campus. Note that students may test during their flex period if it falls during a period that starts the day.
Mid-Week Support Wednesdays
Mid-Week Support Wednesdays (during a five-day week) will be used for office hours, department meetings, standing meetings, club meetings, and tutoring. It is NOT the goal for this day to be used for recovering lost class time. We want to encourage students to use office hours, engage in co-curricular activities, and take time away from the screen. Teachers are welcome, but not required, to be on campus on Wednesdays, as it will be difficult to share spaces for office hours and meetings.
The preliminary schedule for office hours on Wednesdays is set to avoid conflicts as much as possible. We will require that teachers be present for their 1-hour office hour on Wednesday either in-person or on Zoom.
Collaboration
Collaboration time from 8:30-9:30 daily will be used for Counseling meetings with students, Department meetings, Faculty/Staff Meetings, and Adult Faith Formation. An updated collaboration schedule is being created and will be distributed by October 19.
2nd Quarter ALT Schedule (All Distance Learning)
Important note: if our county metrics bring us back into the purple tier, we will adopt a similar Distance Learning schedule to begin the week of October 12. You can see that schedule below. We would like for the Distance Learning schedule to simulate the Hybrid so that we can easily transition if/when we are permitted to return.