Catching Up with Jon Rotz '92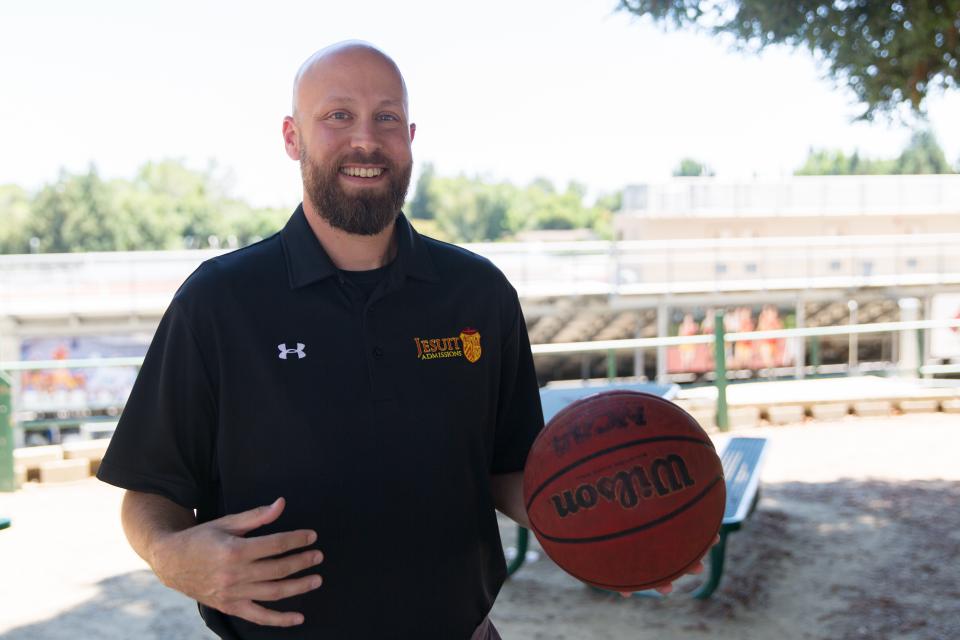 Jon Rotz '92 walks around 1200 Jacob Lane as Jesuit High School's Assistant Director of Admissions and as an Assistant Varsity Basketball Coach, but it wasn't too long ago that Rotz was walking to class on these very same grounds. Rotz recalls fondly his time as a student at Jesuit High School, and recognizes how his time as a student impacted his decision to join Jesuit's staff.
"All of my greatest memories [while I was a student] have to do with the basketball program. Everything from the practices, games, and road trips … I was really close with those guys. My parents lived really close to Jesuit, so a lot of my teammates would come over after practice to eat and play videogames. Those guys were my brothers. Jesuit really allowed me to build tight relationships with these guys, where I would have never met them had I gone to the local public school."
After working in the corporate world for a few years following his graduation from Sacramento State, Rotz joined the Jesuit staff because of the sense of brotherhood that he always felt while working as an assistant coach. He felt that, even though he was only on campus for limited periods of time as a coach, he was maintaining deep connections with teachers, players, and fellow coaches.
"I always felt that the depth of those relationships is something that I couldn't get anywhere else," Rotz said. "Those relationships always drew me to stay more involved with the school."
Rotz, now in his 6th year on Jesuit's staff and his 16th season as a basketball coach, draws daily inspiration from the students and his colleges. He loves the common goal that everyone at Jesuit is working towards, which is to create men for and with others.
"When my alarm goes off every morning, I'm excited to go to work. Jesuit High School is a really special place, and I'm so excited to be a part of it."
Rotz is currently working on his Master's in High School Counseling at Sac State.