A Conversation with Andrew Endicott '13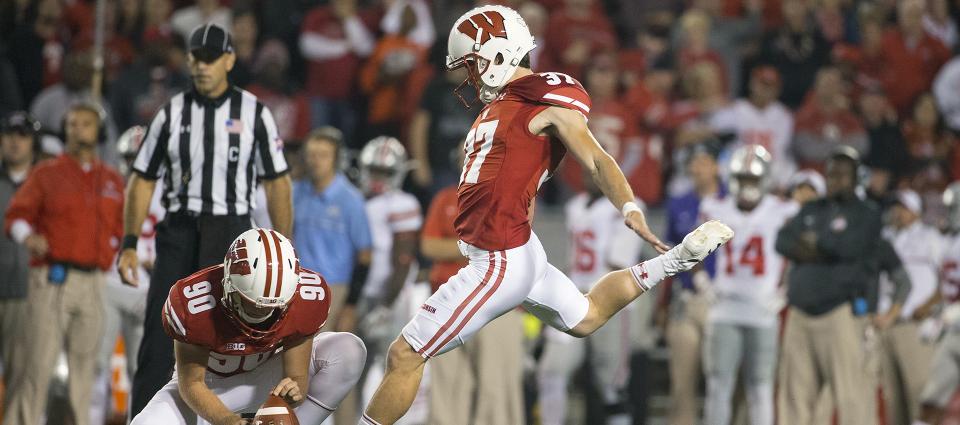 Andrew Endicott '13 showed up to Jesuit High School ready to play soccer. He went to college to play football for the Wisconsin Badgers. Now, Endicott works for the PGA TOUR.
To say that Endicott's life has revolved around sports would be a vast understatement. But, as he gets farther and farther away from his high school graduation, he realizes the importance that the lessons he learned at Jesuit High School play in his life.
"I've always loved sports and sports are something that I've always been good at. Jesuit offered a place where I could continue to excel on the field while also branch out into various service opportunities, retreats, and more. I loved doing those things so much that I even got super involved with the Badgers Give Back program while in college. On top of that, the things I learned about myself while in high school helped me with my career switch over the summer."
After college graduation, the former kicker – who had tremendous success while kicking for some very good Wisconsin teams from 2013-2017 — took a software sales position in Boston for his first "real" job. He loved the city and built great relationships, but knew something was missing.
"I wasn't passionate about my work. I needed a job that got me excited every morning."
Nothing gets Endicott more excited than golf.  Even during football season, Endicott always found time to squeeze in 18 holes.
That being said, Endicott could not be happier with his current position in sales for the PGA TOUR. He has made some great friends, had some unforgettable memories, and, most importantly, is able to play TPC Sawgrass whenever he pleases.
"I love what I'm doing, which is awesome. Sometimes it's important to stop and think about what you want out of a job, a relationship, or anything, really. Jesuit definitely helped me with that. I'm not really sure if I'd be where I am today without that place."