Howell '01 continues to give back
The path toward a dream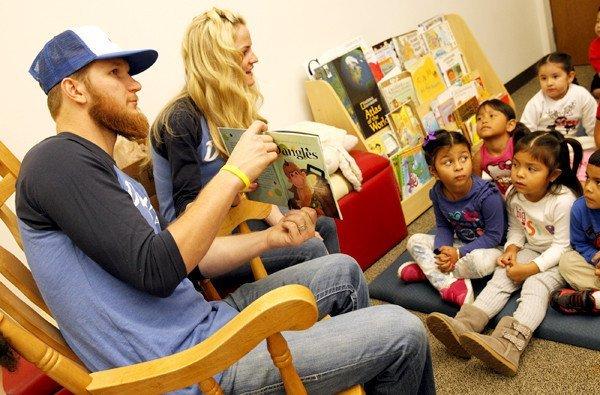 Courtesy of the LA Times
By Bill Shaikin, November 15, 2013
Dodgers' J.P. Howell opens up about bullying
Of all the images you might have of how a major league pitcher spends his November, this probably is not the first one that comes to mind: J.P. Howell squeezing himself into a kid-sized rocking chair, turning the pages of a colorful storybook, smiling before a room full of children he has never met.
He is holding the book, pointing to the illustrations of the adorably playful monkey. His wife, Heather, is reading the book. She wrote it.
The Howells have come here, not too far from Dodger Stadium, to the Children's Bureau Preschool at Magnolia Place. They have a message they feel compelled to share with the 4-year-olds: If you are bullied, let someone know. No kid should have to suffer in silence.
This is not the typical athlete appearance — say a few words, sign some autographs, pose for pictures. This is not a project funded by a foundation and fronted by an athlete. This is about the Howells wanting to help, with a homemade book about the adventures of a lonely monkey named Dangles.
Howell grew up to be a baseball player, but he was bullied as a kid. He was different, at an age when different is not necessarily good.
"I was smaller. I was odd. I was energetic," he said. "They didn't like that. They would try to put me down. If they couldn't do it mentally, they would do it physically. It never stops. It's every single day."
Those words were sad to hear but not terribly surprising. These words, on the other hand, were jarring: "I still get bullied."
Howell is 30. He is a millionaire. He plays for the Dodgers, one of the most celebrated teams in sports.
But, as we have learned most recently from the Miami Dolphins, neither money nor fame confers immunity upon bullying.
Howell said he did not have enough information to take sides in the confrontations between Richie Incognito and Jonathan Martin, but he scoffed at the suggestion that the professional sports locker room is such a unique workplace that intimidation of teammates and racist voice mails can be explained — if not accepted — within that context.
"There is definitely a code," Howell said. "There is a line that has to be drawn too, and you can't cross that line. I don't know what is cool and appropriate in football. What I heard in that voice mail is not going on in baseball.
"That's never going to be OK. I think the league should put a stop to it. Even if it's accepted in the NFL, it shouldn't be accepted."
Is there bullying in baseball? Howell did not hesitate to say yes.
He cited Ian Kennedy, then with the Arizona Diamondbacks and now with the San Diego Padres, for intentionally throwing at the Dodgers' Zack Greinke. Kennedy was suspended for 10 games.
"When he's throwing at someone's head, you could be going to be a funeral," Howell said. "To me, that's a bully. He might be a great guy. But, on the baseball field, that is wrong."
In the clubhouse, Howell said he had no problem with the tradition of directing a rookie pitcher to carry gum and sunflower seeds to the bullpen in a little girl's backpack. He had a huge problem, he said, with pressure in some clubhouses to party and drink late into the night.
"You have to know that you can say no and you'll be all right," Howell said.
When he broke into the major leagues, he owned one suit, a gift from his father. A veteran player — Howell would not identify him — cut up the suit and did not replace it.
"I didn't know how to handle the situation," Howell said. "I wish I would have. I was distracted. I was scared to be around him in the gym. If you're intimidated by somebody because of their actions, that's bullying."
Howell said he saw Yasiel Puig bullied in the Dodgers' clubhouse, though he would not discuss who was involved, or what happened to Puig.
"The guy is such a champion," Howell said. "He has such a big heart. Sometimes he acts like a jerk, but that is his defense mechanism. It's not really him.
"Someday, he is not going to be 22. He's not going to be like that. I love the guy. I hope he never changes, just maybe matures."
The 4-year-olds seemed to enjoy the reading. Perhaps too shy to ask any questions, they jumped when the Howells handed out free copies of the book.
When the Howells gave away bracelets, the kids finally spoke up.
"I want yellow!"
"I want blue!"
The Howells call their project Discover Your Path. If even one kid realized that a bully need not be allowed to block the path toward a dream, the afternoon was well spent.