Max Schumacher '19
VPA Student Spotlight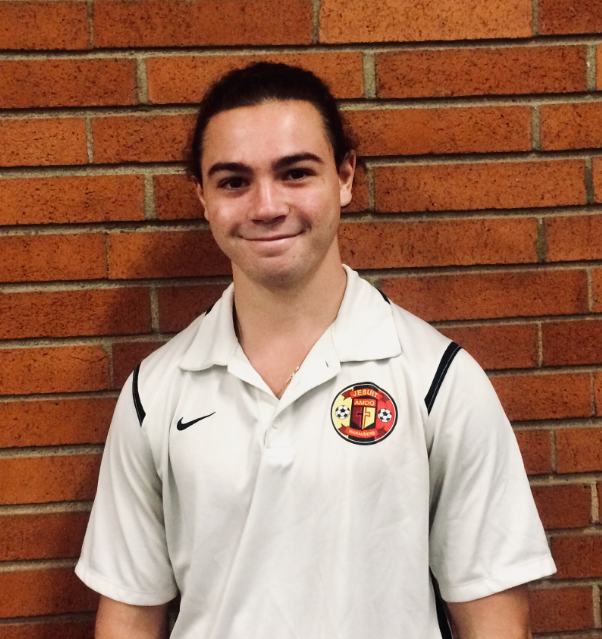 I entered Jesuit thinking that I was going to play rugby and soccer all four years, and have a simple, pleasurable experience. It wasn't until I was signing up for classes before my freshman year that I even thought about choir. The class was called Men's Chorus, I signed up, and it was a spontaneous decision that I will never regret. I had never had any experience in choir before, but it became my favorite class and Ms. Heine became my favorite teacher. At the freshman year Christmas concert I had a solo. This was surely a challenge for me, but it turned out that it made me stronger and more confident within my own skin. From this point on, my goal was to cantor for our class masses.
I continued into the next evolution of choir at Jesuit – Concert Choir. I participated in this choir for two years, both as a Sophomore and a Junior. I was given the opportunity to cantor the Responsorial Psalm at the class masses both years, again building my confidence and helping me towards my goal. I also began to involve myself more in the Performing Arts experience at Jesuit by singing for other, non-school related masses and performing at the annual PACE Auction.
Now I'm a senior and things are going great. I did well in my studies both my Sophomore and Junior years, and volunteered at Loaves and Fishes over the summer, fulfilling my Senior service requirements, but also receiving a wholesome experience by giving back to the community. When I started the school year, the only thing left to achieve was to cantor at a school wide mass, and when I heard that I was to cantor the first three masses of the year I was ecstatic. I was able to lead our newest brothers in prayer at both the Freshman Orientation and the Frosh Overnight Masses. And I was also able to lead the entire school at the Mass of the Holy Spirit in August.
The work of bettering myself does not stop here however. This year I am in Liturgy Workshop, where Fr. Pyrc and Mr. Rallanka are enhancing our understanding of the Mass. Taking this class is also giving me more opportunities to cantor for our school wide masses.
I just want to give thanks to all the people who have bettered me in any way. My Jesuit High School experience has been amazing. And above all I'd like to give thanks to the Lord, because my Kindergarten teacher, Mrs. Pollacchi, always told me: "Singing is like praying twice."