From Panama to a PhD, Ryan Kenneally '15 is Ready for His Next Step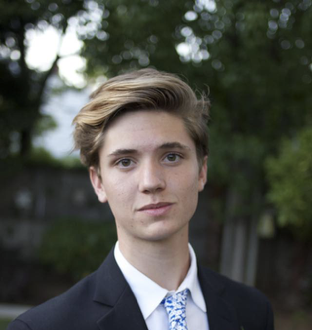 Ryan Kenneally '15 is still a semester away from finishing his undergraduate program at UC Berkeley, but his plan for life after college is already rolling right along.
Once he receives his college diploma, Kenneally will be heading to Panama to spend two years in the Peace Corps.
David Zielke, Jesuit's Director of Scheduling and Testing as well as a Mathematics teacher, is a former member of the Peace Corps. During his classes, he would tell students about his time in the Peace Corps and how it impacted him. These stories caught the interest of Kenneally and inspired him to make service a key part of his plans for the future.
While in the Peace Corps, Kenneally will be working on sustainable agriculture, which is a central focus of his undergraduate studies.
"I'm not interested in learning and working just for the sake of learning and working," Kenneally said. "I want to use what I've learned for the benefit of other people."
Before he heads to Panama, Kenneally will be working on a project during his final semester at Berkeley to try and speed up the breakdown of plastic waste.
"It's a promising project, and I am excited to see what we find," Kenneally said.
Kenneally eventually wants to go back to school and get his PhD, viewing the Peace Corps as a great way to spend time between undergraduate and graduate programs. He wants to use that degree to become a college professor, teaching either genetic engineering or microbiology.
Through all the excitement and craziness that is taking place in Kenneally's life during his final semester of college, he is still able to look back and recognize the ways in which Jesuit prepared him for his future in both the Peace Corps and academia.
"The academics at Jesuit prepared me well for college and gave me an incredibly strong base" Kenneally said. "Jesuit also taught me about values and work ethic. The concept of being a Man for Others relates directly to my future [in the Peace Corps]. My biggest goal is to apply my talents and abilities to aid people who may not have the privileges that I do."
Kenneally will graduate in May from UC Berkeley with two degrees, in Microbial Biology and Genetics.