Purpose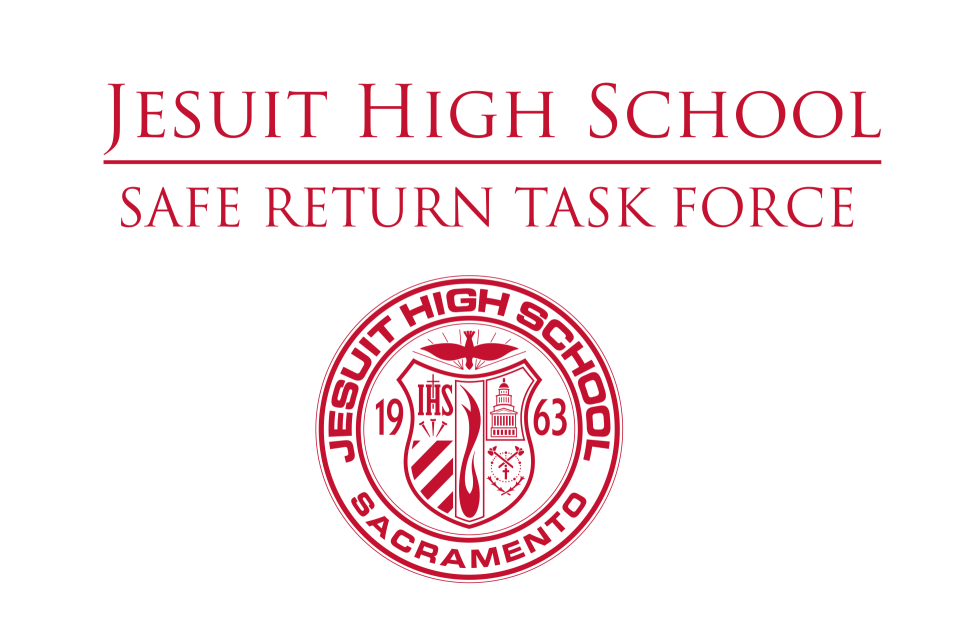 Jesuit High School Sacramento's Safe Return Task Force's purpose is to lead the collaborative effort to reopen the Jesuit campus with as close as possible traditional school environments, including its many programs in a safe, coordinated, and informed way.
Guidance
The task force will serve as a liaison to school administration, department representatives, students, parents, faculty, staff, and the broader Jesuit community. These plans to reopen must be inclusive of the many elements of operations that support the daily life of a school.
Jesuit's plans for reopening is based on guidance from state and local officials*, health experts**, the Diocese of Sacramento, and cooperation with peer schools. The task force will review, apply, and communicate the often-overwhelming amount of information regarding safe practices and virus mitigation. Their work will inform both the initial reopening phases while also monitoring this situation for the entire school year.
*This includes direct contact and consultation with the California Department of Public Health, California Department of Education, Sacramento County Public Health, and Sacramento County Office of Education.
**Jesuit Sacramento's main point of local contact is the Sacramento County Public Health and Officer Dr. Olivia Kasirye with her liaison Nick Mori, Sacramento County Public Health Program Planner. Dr. Kasirye has 20+ years of experience including her work as the Medical Director of the Sacramento County Child Health and Disability Prevention program and the Maternal, Child and Adolescent Health program and as the Communicable Disease Controller. Kasirye received a Medical Degree from the Makerere University Medical School in Kampala, Uganda. She also has a Master of Science degree in Epidemiology from the University of California, Davis. She is Board Certified in Public Health and General Preventive Medicine. Additionally, the Task Force consults with Sacramento County Public Health Nursing Staff on a case by case basis.
6 Components
The task force chairs are currently completing an initial planning assessment to ascertain our readiness to return to school safely. We are reflecting on six components of planning and identifying areas of strength and areas of need:
Public Health and Safety: cleaning, disinfection, and sanitizing, screening, distancing, foot traffic, protection for at-risk students and staff, protective gear, handwashing protocols, other mitigation processes.
Supporting the Whole Person: social/emotional well-being of students; mental health, attendance and participation, equity, and inclusion.
Staffing and Personnel Needs: collaboration with employees, at-risk staff, social-emotional mental health, and support.
School Structures and Schedules: campus considerations, schedule options, co-curricular, events, Masses.
Academics and Instruction: maintaining quality instruction, assessments, and grading, academic support, distance-learning options, equity.
Operations: communication, transportation, visitor access, school meals, technology, budget.
Subcommittees
Academics
Curriculum, instruction, assessments and grading, academic support, distance-learning resources and options, technology, scheduling. Chair: Colin O'Connor Members: Nick Lai, Dave Zielke, George Wagner
Community Wellness
Social/emotional well-being of students, counseling, mental health, equity & inclusion, social/emotional well-being of faculty/staff, care for at-risk community members, spiritual nourishment, policies regarding pandemic related leave of employment. Chair: Rod Theodule Members: Ian Farr, Vickie Horvath, Amanda Smith
Student Life
Student related non-academic activities including assemblies, athletics, clubs, performances, liturgies, retreats, service. Chair: Annie Crew Renzo Members: Kelly Barnes, Hank Weinberger, Jay Nacionales
Facilities & Operations
Transportation, safety & security, visitor access, school meals, cleaning & sanitizing, screening, distancing, foot traffic, protection for students, faculty & staff, mitigation procedures. Co-Chairs: Paul Speers & Gerry Lane Members: Jonathan Isaac, Keegan Smith
Communications, Admissions, Sustainability, & Events (CASE)
Protocols for events, scheduling, transitions from live to virtual outreaches (for example, in admissions), nurturing and building relationships. Chair: Kim Kalmbach Members: Colleen Arrigo