Christmas Tree Lane
Watch, shop, and experience the spirit!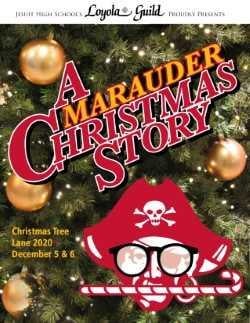 Reimagined for 2020! Online shopping options & virtual fashion show for the 64th Annual Christmas Tree Lane (CTL).
Schedule
Friday at 6 p.m.: Early VIP Access to view the 64th Annual Christmas Tree Lane Holiday "Movie"
Saturday and Sunday: All-Day online shopping (with some local stores also open at their retail sites for in-person shopping)
Saturday at 6 p.m.: Public live viewing of the CTL 2020 Holiday "Movie" on Loyola Guild's Facebook
Sit by your fire and shop!
Support local business, Loyola Guild & Jesuit High School! Shop at the local vendors that make the Lane such a magical tradition. A portion of all sales at these shops will be donated back to Jesuit.
ORDER CTL FAVORITES ITEMS ONLINE AT THE COVE
Shop Mono Mia Online (Monomiaonline.com)
Allie Studio and Murphy&Gert will be on the same website (Alliestudio.com)
**Both Mono Mia and Allie Studio will also have their items in person at Mono Mia's storefront. Lyon's Village: 2580 Fair Oaks Blvd #8, Sacramento, CA 95825
Alicia Rachel Design (Aliciaracheldesigns.bigcartel.com)
Renewable Jewels (Renewablejewels.net)
Ruby dot Design (Rubydotdesigns.com)
Bueno (Buenobabe.com)
Tilted Tulip ( @tiltedtulipeastsac) Instagram
Theofani's Evoo (www.theofanisEVOO.com/buy)
Don't forget shopping is always available online at the Guild's Marauders Cove! They have special holiday items and staples to keep you in style all year round.
Loyola Guild is adhering to all social distancing and facial covering guidelines. Please follow protocol during pickup. Details to come.