About Us
As a Jesuit, Catholic college preparatory high school, we are committed to the excellence of our broad-based program of academics, co-curriculars and spiritual formation. While that excellence can be measured through our students' recognition and success, we are most concerned by what happens as a result of a graduate's education. Our goal is to help form leaders of competence, conscience, compassion and commitment to God in service who will work for justice and quality of life for all.
Jesuit High School of Sacramento is a Roman Catholic college preparatory dedicated to forming competent young men into conscientious leaders in compassionate service to others for the greater glory of God. The school's purpose is to service the young men of the wider Sacramento area, from every ethnic and socio-economic background and a broad spectrum of academic achievement. Enrollment is at capacity and includes a senior class of 268.
It started with a ranch
A Jesuit High School for the Sacramento area had been initially envisioned by the late Bishop Robert Armstrong. It was his successor, Bishop Joseph McGucken who invited the Jesuits of the California Province to begin the project. In January of 1961, the Society of Jesus purchased twenty-one acres of the Horst Ranch property which was to be used for the new school campus.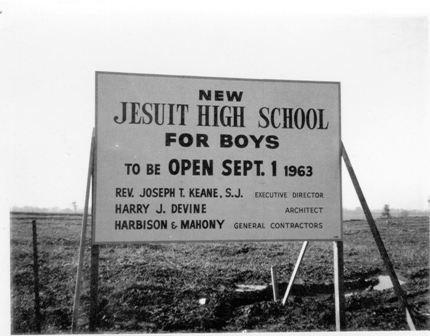 Jesuit High School (JHS) is a Sacramento regional Catholic high school that provides young men with a life-building experience. Founded in 1963, the school delivers an academically rigorous college preparatory education to graduates prepared for lives of leadership and service. Student enrollment is approximately 1070, representing diversity in geography, ethnicity, religious affiliation, and socioeconomic background. JHS draws from more than 90 zip codes throughout the greater Sacramento area, and 99% of graduates go on to college or university.
If you have a specific question or comment, please use our employee or department directories below to contact a specific employee for quicker response.
Campus/Events/Parking:
4660 Fair Oaks Blvd
Sacramento, CA 95864
Phone: (916) 482-6060
Fax: (916) 482-2310
Attendance Line: (916) 480-2135