Face Coverings
Masks and Face Shields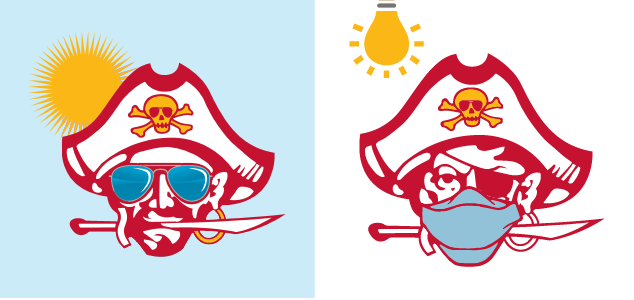 Face coverings policy
Jesuit High School Sacramento continues to follow CDC, CDPH, and Sacramento County public health guidelines. As of July 30, 2021 masks must be worn when indoors by county mandate.
Jesuit also received an update on face coverings in the school setting from Sacramento County and the California Department of Public Health.
To summarize, the following is in effect:
INDOORS, all attending, working, or visiting a school campus must wear a mask when inside.
OUTDOORS, masks are optional. Individuals may choose to wear their masks if they wish.
The latest guidance from the CDC and CDPH indicate that, after vaccination, universal masking and ventilation are the most important layers of mitigation to stop the spread of COVID-19 in a school setting. The implementation of universal masking in classrooms has been shown to provide the same or better level of protection as physical distancing.
What type of Mask is Okay?
YES
✔ Cloth Face Masks (handmade, store-bought, with solid color, geometric or school-approved pattern)
✔ Disposable Face Masks
✔ Gaiters (double layer, no slits or mesh)
NO
✔ Bandanas (do not sufficiently prevent the spread of respiratory droplets)
Why Wear a Mask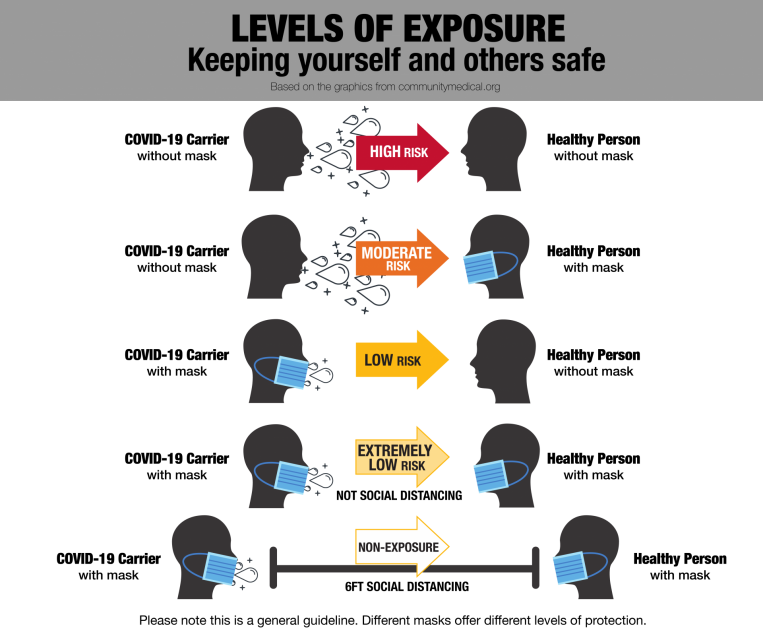 Do's and Don'ts
DO
✔ Cover mouth and nose fully
✔ Have mask fit snugly against the sides of the face so there are no gaps
✔ Secure with ties, elastics, or other means to prevent slipping
✔ Avoid touching your face or mask as much as possible.
✔ Clean hands with soap and water or alcohol-based hand sanitizer immediately, before putting on, after touching or adjusting, and after removing the face covering
✔ Do mark the outside of the mask in some way so you can easily identify which side is the outside of the mask, and handle it accordingly. Some individuals mark the outside with their initials in permanent ink.
✔ Do keep a bag handy for storing the mask every time you take it off —preferably a paper or cloth bag. An open plastic Ziploc-style bag is an alternative if a paper or cloth bag is not available.
✔ Always store a mask in a clean place. Never store it in your pocket.
✔ Keep the covering clean.
✔ Laundry instructions will depend on the material used to make the face covering. In general, face coverings should be washed and dried regularly and stored in a clean container or bag.
DON'T
✘ Don't share your mask with anyone else unless the mask has been washed and dried first. You should be the only person handling your covering.
✘ Don't pull your mask below your nose or chin while you are wearing it. Leaving the mask dangling or improperly fitted to your face creates opportunities for cross-contamination.