Cross Country Kicks off 2018 Season
Top 5 runs #5 time in history (Saturday, August 18, 2018)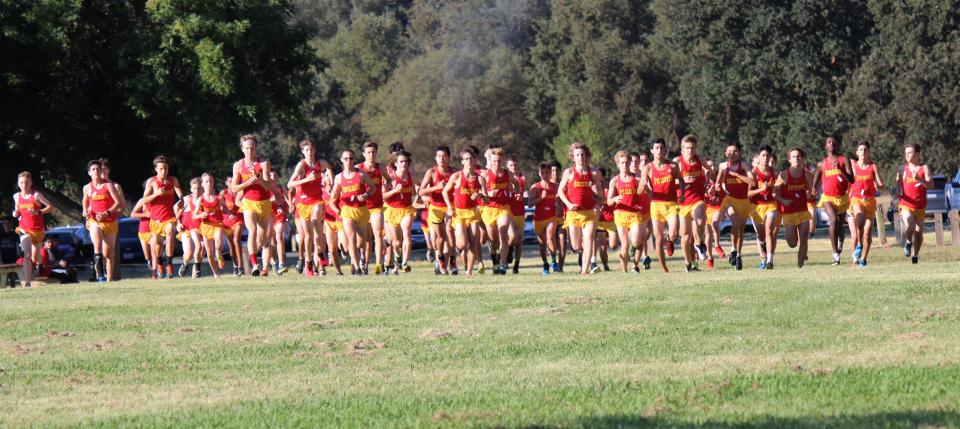 The Jesuit Cross Country squad kicked off the 2018 season Saturday at the annual Meeting of the Marauders at Hoffman Park. Junior Matt Strangio, a 2017 All-American, ran the #2 time in course history, winning the race in 13:36. Senior Colin Ryan ran 14:02 (#21 all time) in second and senior Antonio Vargas ran 14:21 (#34 AT) in third. Junior Chase Gordon opened up his Jesuit career at 14:29 (#45 AT) in 4th, senior Anthony Rogado placed 5th in 14:32 (#47 AT), senior Clin Brannan was 6th in 14:33 (#48 AT) and senior Gabe Lovely rounded out the top 7 in 14:38 (#52 AT). Also checking in at #74 on the all time list was senior Todd Russell, who placed 8th in 14:52. The squad ran a team time of 71:00, which is the 5th fastest time in the 25-year history of the Meeting of the Marauders.
The senior squad consisting of Ryan, Vargas, Rogado, Brannan, Lovely, Russell and Seamus Caslin (9th in 15:14) ran 72:06 to win the class competition and placed 4th on the all-time list. The juniors led by Strangio and Gordon were joined by Martin Smith (10, 15:24) Jayson Leach (13th, 15:35), Connor King (14th, 15:35), Demetri Petuskey (15th, 15:47) and Talon Krieger (16th, 15:52) to take 2nd in a team time of 74:39, placing them 4th all-time.
The large and talented freshman group landed 9 runners on the all-time freshmen list. Cameron Cleland led the group in 16:34 (21st, #28AT) with Spencer Morrison (23rd, 16:53, #38AT) and Harley Sherman (24th, 6:53, #39AT) close behind. Gavin Joaquin ran 17:08 (26th, #50AT), Julian Curiale ran 17:10 (27th, #52AT), Ian King ran 17:15 (29th, #53 AT) and Joey Ryan ran 17:16 (30th, #55AT). Diego Levenfeld and Giovanni Sloppye also checked in on the all-time list (32nd, 17:19, #56AT and 34th, 17:25, #61AT, respectively). The freshmen's team time of 84:38 was good for 7th on the all-time list and 3rd overall for the day. The sophomores placed 4th in the class battle, running 85:34 for 19th on the all-time list. They were led by Michael Chambers, who placed 11th in 15:30, good for 39th on the all-time list for sophomores. Joe Ryan placed 22nd in 16:44, Tommy Gee placed 31st in 17:19, Michael Gamette was 33rd in 17:20, Lukas Crawford ran 17:41 for 36th, Trey Jacobi was 38th in 18:38 and Matthew Jones was 47th in 19:19.
The Maruders compete in their first meet on September 1 at Lagoon Valley Park in Vacaville.