Get Involved
Jesuit is more than a school, it is a community of passionate men and women for others who believe deeply that Jesuit is a unique place that allows our sons to grow into something more. Feel connected to your Jesuit family by volunteering at events, joining the social, fundraising parent groups, or simply wearing a Marauder T-Shirt at the next game.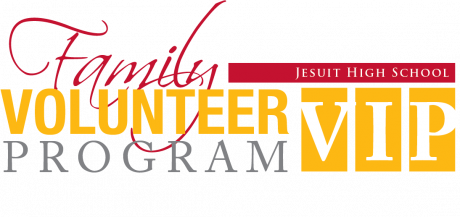 To promote the spirit of volunteering, all families are asked to commit to 25 hours of service for Jesuit High School's various fundraising, athletic & partner events.
Our new VIP Portal allows you to see all volunteer opportunities in one convenient site, as well as track all your hours online. Download the Helper Helper app or log on to app.helperhelper.com.If you are logging in to the site for the first time, please refer to the Helper Helper email sent to you with your temporary password.
Established in 1955, the Loyola Guild is a non-profit corporation of Jesuit parents and friends which fosters the educational and social needs of the high school community. The Guild sponsors annual events with profits going towards Jesuit's scholarship endowment. Volunteer opportunities are plentiful – this is a great way for parents to get involved, make lifelong friends and stay connected even after graduation!
Membership
Meetings and events are open to all members and prospective members. Bring a friend!
Annual Membership: $25 (Loyola Guild mug)
Four-year Membership: $90 (Loyola Guild tote)
Lifetime Membership: $275
Upgrade from Annual or 4-year to Lifetime Membership: $250
complete the membership application
Board
Earn Your Hours While Making New Friends!
Looking ahead, join the Board in one of these open positions:
Volunteer Coordinator
Treasurer Elect
CTL or Logo wear Treasurer
Alumni or Senior Class Reps
Mother-Son Dance or Holiday Membership Event
Properties & Supply Management
If you are interested in an Advisory Board position or committee role, please email the Loyola Guild Presidents HERE
Class Reps
Loyola Guild provides each class at Jesuit with a "Class Representative" that can be a resource for questions about Jesuit, Volunteer Hours or Loyola Guild.
New Class Reps for the 2019-2020 school year will be announced this summer!
The JHS Boosters is an active organization of men and women who are current parents, alumni, alumni parents and friends of Jesuit High School. The Boosters provide volunteer help to staff student activities, including sporting events and the visual and performing arts performances, and host seasonal athletic banquets. They sponsor a series of social and fund-raising events throughout the year to provide additional support to the school, including "Welcome to the Spirit of Jesuit," Annual Crab Feed and the Vehicle Donation Program.