Service and Justice
The Service and Justice Program is designed to form students as men for and with others. We provide a program structure that:
Creates opportunities for students to experience solidarity with people who are poor and marginalized;
Encourages students to attend to and understand the needs of the created world;
Supports students in the development of habits of reflection and skills of social analysis that help them work for social change;
Assists students in connecting their lives of faith, Catholic Social teaching, and the needs of the communities of which they are a part.
Coordinated by the Office of Service and Justice
Resources
Students can access all Service and Justice resources in their grade-level Service and Justice Google Classroom Page. Resources available there include:
Reminders
As of October 22, 2020, we are again able to support students in choosing in-person service. If this policy needs to change given changes in public health guidance, we will notify students through Google Classroom, and update posts in the Weekly Update email and the website.
Students are still able to complete their Service and Justice requirement through remote opportunities. Specific approved activities and agencies are available for students in the Service and Justice Google Classroom page, and here. Students are also welcome to propose their own project for review and approval.
Philosophy
Jesuit facilitates service and justice work in the community throughout the student's tenure at JHS. Through programming coordinated by the Office of Service and Justice, students are guided into direct service with our neighbors who experience acute need or some form of marginalization. Students are invited to serve with people experiencing chronic hunger, with children in under-resourced schools, with young adults living with developmental delays, with people living in homelessness, with elderly adults in assisted living centers, and with agencies responding to, as Pope Francis states in Laudato Si, "both the cry of the earth and the cry of the poor." Students are also invited into the work of faith-based advocacy for justice.
Service is an active response to our faith; a faith that is inspired by and pursues the example of Jesus by feeding the hungry, clothing the naked, visiting the sick, and inviting the outcast into friendship. In doing this we are able to grow closer to God and all of God's beloved creation. In giving ourselves away we receive more than we could ever imagine.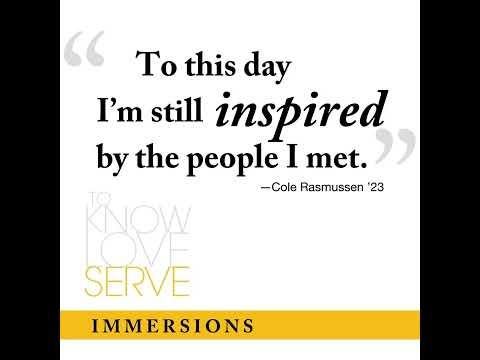 Immersions invite us to enter into community and service with our neighbors whose lives might be unfamiliar to us. They require cultural humility, openness, flexibility, and generosity. This site is intended to help you learn more about our Service Immersion Program for Sophomores and Juniors at Jesuit High School.