Cross Country wins SJS Champs
Matt Strangio wins individual title with Colin Ryan runner-up (November 17, 2018)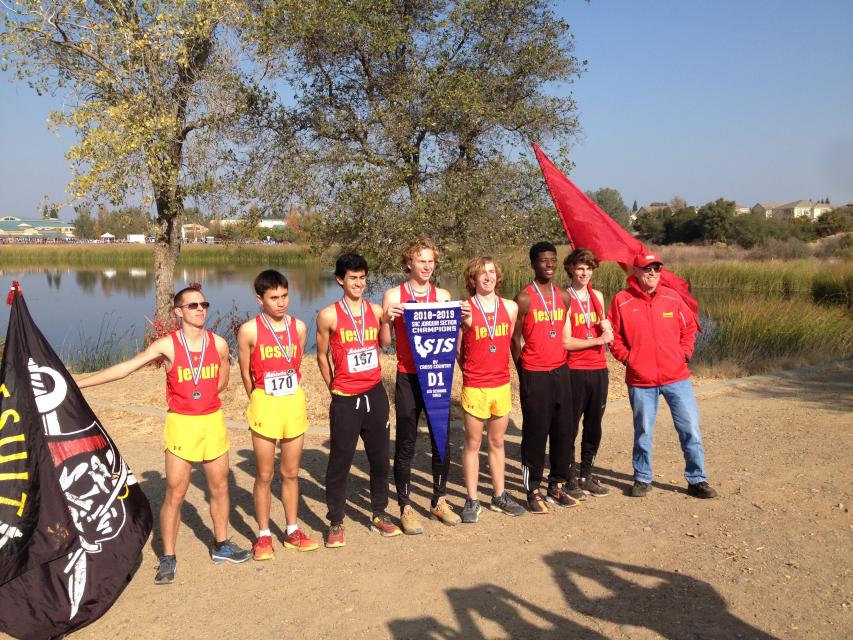 After a week of uncertainty due to poor air quality, the Varsity Cross Country team had one of the most dominant wins in section history by scoring 4 in the top five and 6 in the top 10 at the Sac-Joaquin Section Championships. Following a postponement of the race from November 11 due to poor air quality from the Camp Fire, the occurrence of the race would be a last minute decision if the air quality was deemed unhealthy. The athletes cobbled together training runs when and where they could all week which paid off in one of the most dominant section victories in recent memory. While the JV, Sophomore and Freshmen teams had qualified to the championships and were favored to do well, their races were cancelled to make certain the State Meet qualifying races could be run, ending their seasons at the Subsection race where the JV and Freshmen teams won with the sophomores placing 2nd.
Junior Matt Strangio led the race from start to finish, opening up a gap at the mile mark and finishing 17 seconds ahead of the field in 15:51 to defend his individual title. Senior Colin Ryan was the runner-up in 16:08 after making a move with a mile to go to on Calvin Abbott of Lincoln (s). Junior Chase Gordon moved up steadily throughout the race and nearly caught Abbott at the line, finishing 4th in 16:21. Senior Anthony Rogado made it 4 in the top 5 with his 5th place finish in 16:27 while senior Gabriel Lovely returned to the line-up in 7th in 16:29. Senior Antonio Vargas was 9th in 16:33, putting 6 Jesuit runners in the top ten, earning them all-Section honors and having six finishers ahead of 2nd place Davis' top finisher. Senior Miles Worthen was 20th in 17:06 to seal the win for the Marauders who scored a near perfect 19 points over Davis' 78 and Gregori's 127.
Jesuit notched the 27th section title in school history and moves on to the State Meet for the 4th consecutive year along with Davis. The D1 Boys race starts at 8am at Woodward Park in Fresno on Saturday, November 24.