AP Capstone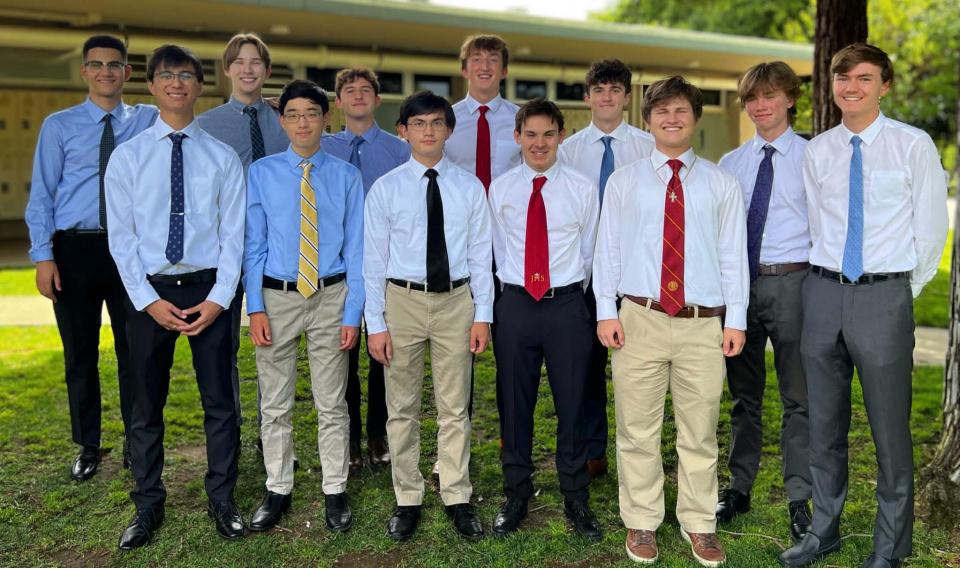 As the 2021-2022 school year came to a close with the closest-to-normal cycle of AP and final exams, a small handful of students completed one of the steps in the AP Capstone program. And heading into Jesuit's fourth academic year with the College Board's two-year elective program, students looking for a way to challenge themselves and showcase their interest in various academic fields will have the benefit of many students paving the way before them, whether on Zoom or in person.
The AP Capstone program consists of a two-course sequence: AP Seminar and AP Research. Students can start the program as sophomores or juniors, depending on how it might fit into their schedule. Some take a summer school class to free up space, while others opt to drop their Flex period to take on the additional coursework. Each course is designed to present students with skills and knowledge necessary to tackle college-level academic research questions, as well as hone writing and presentation skills that stretch beyond what other AP or honors courses provide.
AP Capstone courses are quite different from other AP classes, both in design and in the day-to-day experience. Because the courses are project-oriented, students have a lot of freedom to explore topics of their own interest, and the bulk of class time is focused on teachers providing time, space, and guidance for students to work on long-term project components and goals. Instead of packing in lots of collegelevel content and studying for a high stakes exam, students immerse themselves in the academic conversation surrounding their chosen topics and learn to navigate vast research databases and draw conclusions from previous findings as well as their own.
In the short life of the program at Jesuit, students have presented Seminar work on topics as wideranging as nuclear energy policy, sweatshop labor in the fashion industry, environmental justice, and the California housing crisis. AP Research students have presented and defended original research in disciplines from robotics/mechanical engineering to film criticism, from political science to life science. The Class of 2022 also had two graduating seniors whose 2021 AP Research papers have been published in the Journal of Student Research—Charlie Diaz and Christian Hyde.
So what's the benefit of an AP Capstone program? Students are not likely to receive college credit, which they may for passing other AP exams. No, the benefits are far more intangible, but still very real. AP Capstone courses provide students with space to deeply explore topics that they may brush past in a standard AP course—or even showcase their budding skills and talents in a field that few high school students ever explore. The AP Capstone experience has provided our Jesuit students with material for college admissions essays, interviews, and resumes. And for students who have designs on working laboratories or assisting with research in college, these courses provide the best onramp in a familiar, student-driven environment.