Distilling Friendships
J.J. Pfister Distilling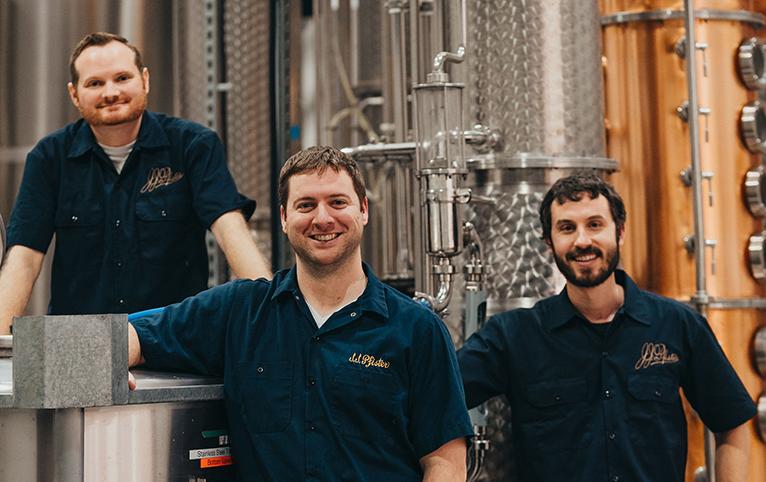 It really starts with the Keck family. Brian Keck, the Master Distiller at J.J. Pfister, opened up shop in 2015 with his family and his two best friends by his side.
Michael Moore '04, was a classmate of Keck's during his year at Jesuit High School. The two had four of their six classes together and looked to be well on their way to walking across the graduation stage together.
So when Keck's family moved to Portland after his freshman year, things changed. A little. Most people would think that Keck and Moore's friendship would be hanging on by a thread; most would be wrong. The two stayed in touch, and eventually found themselves back in Northern California together when Brian was studying for his Master's in Viticulture and Oenology at UC Davis. But now, instead of playing video games together, they were brewing beer together.
Just a hobby, right?
Another friend, Chris Johnson, comes into play about that same time. Johnson, originally from Massachusetts, met Keck while also studying the wine business at UC Davis. The pair explored the industry for a while, when another key relationship entered into the mix.
Potatoes…a bunch of potatoes.
OK, so it goes a little deeper than that. While living in Oregon, the Keck family befriended an organic farmer, who years later would tell Brian and his circle about his desire for a better way to get rid of potatoes that some larger grocery chains would not take. There was nothing wrong with the potatoes, they just weren't "perfect" in the eyes of the retailer. It seemed to be
a waste to use those potatoes for animal feed.
This was a lightbulb moment for a couple of true entrepreneurs.
Keck and his family decided to jump into the craft spirits business, with Brian leaving behind the wine world and taking Chris with him. A third distiller was needed; who better to call than Brian's old buddy from J-High, Michael?
No more weekend beer brewing. This was the real deal. However, the most fascinating relationship dates back before Brian met Chris, or Brian met Michael, or the Keck family met a potato farmer.
The most fascinating relationship is the connection to the Distillery's namesake, J.J. Pfister. Pfister is Brian's great-great-grandfather—a man who came to the United States from Switzerland in 1869 and started his own knitting company seven years later. You guessed it­—J.J. Pfister Knitting Company.
He lived and worked in a one-bedroom apartment in San Francisco before operating a factory that stood where the City Hall currently resides.
Brian's grandma always told him the story of J.J. Pfister, and it fueled Brian's entrepreneurial spirit. The distillery was named after him in recognition of that. And right now, the distillery is doing pretty well. Sure, it wasn't always that simple. There was the trial period and moments of "Do we actually want to do this?" in 2015, the production delays from ordering distilling parts internationally, and the "attempts" at doing sales, as the distillers put it.
But today, J.J. Pfister is in grocery stores, bars, and restaurants from Chico to Los Angeles. You can hardly miss them in a Raley's or a BevMo, and Ruth's Chris carries a variety of J.J. Pfister products on their shelves.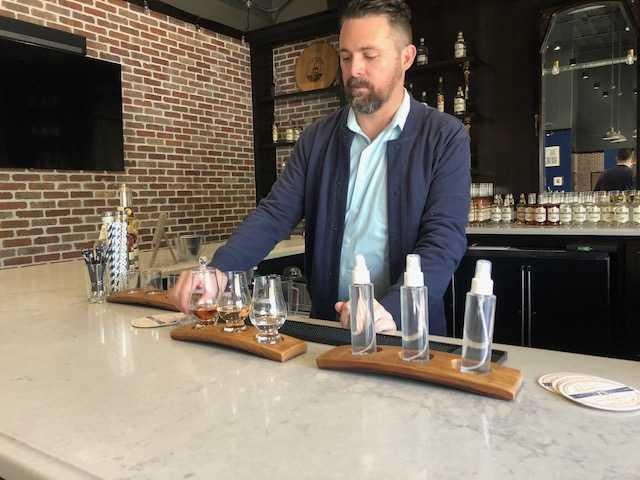 And then there are the reviews. When J.J. Pfister launched their Capitol Gin in 2019, The Tasting Panel Magazine scored them a 97 out of 100. Not too shabby for a distillery that now employs about 10 people—a 100 percent increase from the five they started with.
And for Keck and Moore, they still think about the classes they had together 20 years ago at 1200 Jacob Lane. They still carry with them the Ignatian values that the school teaches, and they still utilize the Jesuit alumni network for business purposes.
"When I think of what I learned at Jesuit, I think about being a Man for Others," Moore said. "With J.J. Pfister, we donate a gift basket with our product to the Jesuit Auction each year and give a portion of our profits to different wildlife non-profits. That's something we like to do, A.M.D.G."
Keck has another takeaway from his time at Jesuit Portland. "We would always talk about 'Age Quod Agis,' which loosely means 'Do Well, Whatever You Do.' And I've thought about that a lot," Keck said. "Because here we are, doing this pretty well."
Brian, I think we'd all agree