Leading with Empathy…and Insight
Greg Harcos shares his rich, varied career and shares his newest role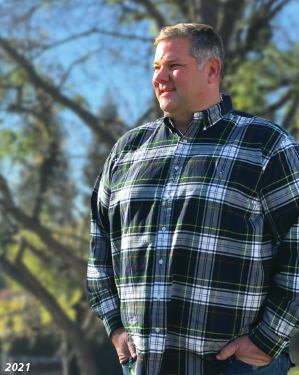 Greg Harcos '89 has experienced just about every type of role one can have at Jesuit High School: student, alumni, teacher, coach, parent and administrator. Although his working relationship with the school has varied over the years, his perspective on the Jesuit community has stayed consistent.
"There is a kinship of being at Jesuit—and I've experienced it at all different levels," Harcos said. "What I've always tried to be mindful of in all those different roles is, how I can help create community and how I can help others—be they a student or parent or teacher—have a great Jesuit experience like I've had."
Harcos is an alumnus and former student-athlete who returned to Jesuit for a part-time coaching position in 1998. At the time, Harcos was a pre-med student who had just finished all his requirements and was about to apply to medical school. Before he submitted his application, however, he was asked to be a long-term substitute at Jesuit, in addition to being a coach, for another teacher on medical leave. Harcos enjoyed the combination of coaching and teaching so much that he decided to abandon his medical career pursuits and, instead, dedicate his career to Jesuit.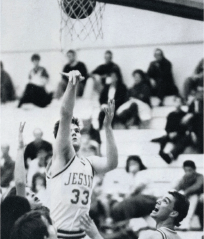 Since then, Harcos has served as a full-time teacher, football coach, head varsity basketball coach, chair of the science department and Athletic Director. Now, he is the Director of Summer Programming, in addition to being the parent of a current Marauder. Harcos' versatility has not only kept his career interesting, he says, but it also has made him a better and more empathetic leader.
"For me it's about having an understanding of how people in our community may be thinking about a certain situation. I can draw on my experiences as a student, alumnus, parent, teacher, coach and administrator to understand what other people are experiencing because I've been through it all," he said. "God, I'm sounding old," he added with a chuckle.
Harcos' rich past also prepares him well for his new position because the Director of Summer Programming oversees the academic programming for high school students in mathematics, science, social studies, and service. It also manages the academic and sports camps that are open to elementary and junior high-age children throughout the Sacramento region.
"My goal for the program is to make sure it can flourish and be as strong as it can be because it's some people's first experience (with) and understanding of what Jesuit is all about," he said. "I want to put our best foot forward. I want people to see what a Jesuit education is all about and understand the high level at which we operate."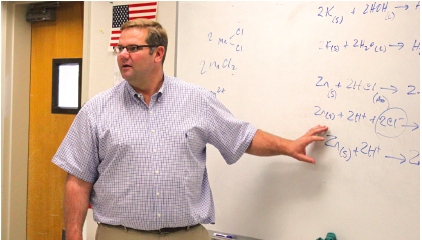 Harcos added he is motivated to provide dynamic summer programming because present-day summer school involves much more than simply being an option for students who might have fallen behind; it is about providing an opportunity for students to get ahead. For example, summer school provides Jesuit students an option to take courses during the summer, thereby allowing them to lighten their academic load during the regular year so they can have more time for co-curriculars, which are an important part of the Jesuit experience. Beyond academics, Marauder students who work as counselors for Academics Plus and the sports camps over the summer are given the opportunity to shine as mentors and role models for the young campers.
"One of my favorite things about the summer programs is seeing these high school kids, who are put in a position to have to act maturely and responsibly, all step up to the plate. It's fun to watch," Harcos said, comparing some counselors to the Pied Piper in the way that they captivate young campers. "It makes me realize how lucky we are to have the students that we have at Jesuit."
Harcos added that Jesuit students are the best ambassadors for "selling the school" because they show members of the community the Jesuit mission and values through their actions.
"I think our students are a large part of what builds the character of the summer programs," he said. "They make us look better, they always do. They make the community better."