The Man in the Chair
Jesuit Drama Artistic Director Edward Trafton '84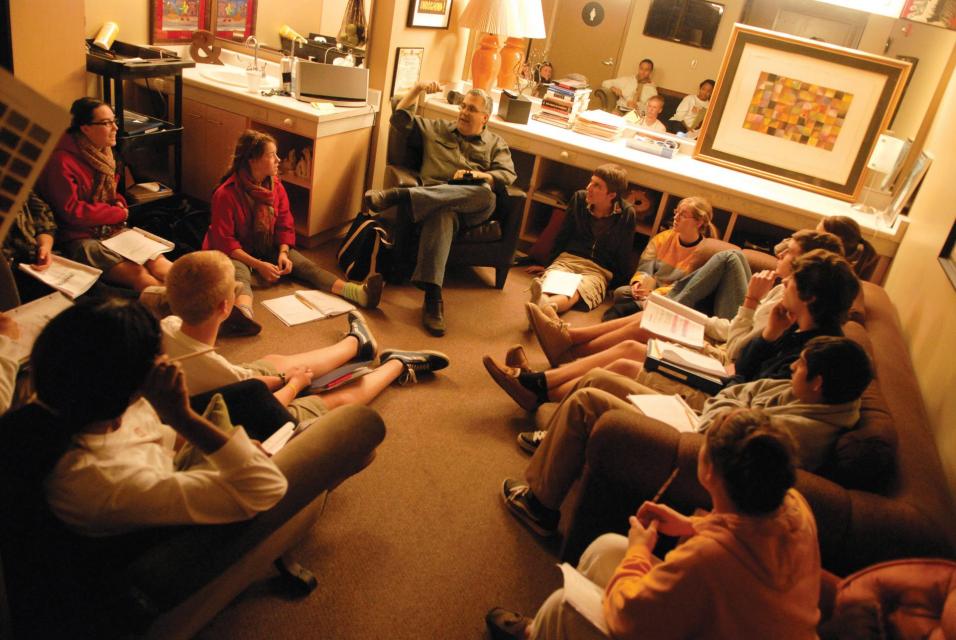 Theater directing is often called the "invisible art" because the best work can be undetectable as the performances unfold. That, combined with writing original works, guiding actors that often have never been on a stage, and building sets from the ground up for each production moves the spotlight over to the man in the chair—Jesuit Artistic Director Ed Trafton '84.
Trafton has been part of Jesuit Drama since 1990 and has served as its artistic director for the past 14 years. Aside from drama, he works in Campus Ministry as a liturgical musician and teaches senior English. After graduating from Jesuit, Trafton earned a double degree in Theater and English from CSU Sacramento where, as a student, he directed and performed in plays and musicals from Shakespeare to Sondheim. He returned to J-High shortly after as faculty, but he also continued his professional journey. He is an accomplished director, musician, playwright, and teacher who has worked for educational, community, and professional theaters including California Musical Theatre, Broadway Sacramento/Music Circus, California Stage, and the Sacramento Theatre Company. Trafton is a sought-after professional who has impacted many with his talents.
Creating theater is a complicated process with a huge number of moving parts, but ask any of the students that studied under his tutelage and they will say it is not the "theatre parts" that were moved. Rather, it was their own being that was molded and changed for the better in such a memorable way that they still credit Trafton with helping lay their path to professional success in theater arts long after they left Jesuit.
Trafton will tell you that the Black Box at Jesuit Drama is an open place where all are welcome. Casts and crews of Jesuit young men are complimented by young ladies from local high schools and most, if not all, are forever changed by their experience.
As you read just a few of the alumni sentiments, we invite you to also add your thoughts—whether as a drama or stage crew alumnus, patron, or benefactor. Visit JesuitHighSchool.org/encore to add your thoughts and memories.
From the Alumni
Riley Shanahan '10, actor, including Doom Patrol
"Ed Trafton is a national treasure. I'm indebted to him because he was the first professional adult-person to teach me [that] I truly had something to offer as an artist.
"My experience at Jesuit Drama taught me that my life-long dream of being an actor wasn't a silly, frivolous thing. Rather, it was a practical, necessary, honorable profession that made me feel at home in myself."
Chris Sullivan '98, actor, including This is Us, Guardians of the Galaxy
"One of the great educators of our time (is) Ed Trafton. I can't imagine many high school programs being better than the program that he runs. He was my mentor and my director…he was the first person to treat me like an adult and to place the responsibility of telling a story to an audience firmly on my shoulders.
"He gave us some pretty (meaty) content to talk about. Needless to say it was an intense show. But every show we did was like that. The responsibility was entrusted to us. Looking back, developmentally, that was pretty important. By the time I got to the end of high school, I wanted to be an actor."
John Sanders '95, actor, including Awkwafina Is Nora from Queens, Matilda the Musical
"That play (Ten November, 1991) and the time I had with it at Jesuit has become a defining moment for me and, I believe, for a number of the people involved. I credit Ed Trafton with helping me develop a love for the stage.
"Trafton says often that he considers it an honor to be working alongside some of his former teachers and former students. But the honor is all ours. So, when you next visit the Black Box Theater, be sure to look over for the man in the chair."