Moving Forward: "Seeing All Things New in Christ"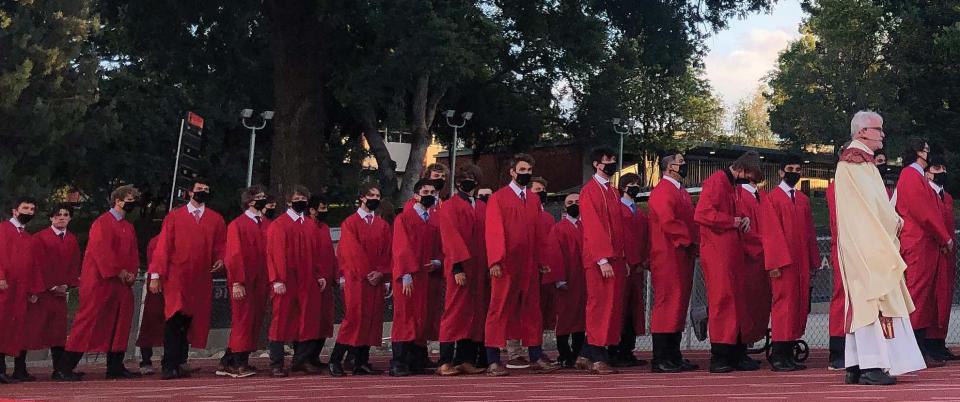 Dear Friends of Jesuit High School Sacramento:
This year in all Jesuit schools and other works, we are celebrating the 500th anniversary of Ignatius Loyola's injury during the battle of Pamplona, in Spain, which began his process of conversion from soldier to saint, and ultimately to the founding of the Society of Jesus. We refer to this moment in Ignatius' life as his "cannonball moment," because during the battle he was struck by a projectile that shattered his leg and left him recovering for months.
During this year, we are invited to think of our own "cannonball moments"—those times in which something has happened to us that causes us to change, to be transformed, to embark on a journey of conversion that leads us closer to God and to the life God intends for us.
We have all been through a great deal over the last 18 months during the reality of the COVID-19 pandemic, its variant, and the many other things that have happened in our world during this "season of time."
"All things in this world are gifts of God, created for us, to be the means by which we can come to know God better, love God more surely, and serve God more faithfully." —St. Ignatius Loyola
While we all seek to do our part in the present to beat this pandemic and live with a sense of renewed hope and promise, we also seek to regain our balance, perspective, joy, and fulfillment in all that God gifts to us in our daily lives as we try to love God and serve God faithfully. We move ever forward, learning from our experiences and trusting that God will lead the way. St. Ignatius wanted to cut to the heart of reality and live in close friendship with Jesus. Ignatius said: "If you want to make progress in love, speak about love; for holy conversation, like a breeze, fans the flame of charity."
So, it is true of us at Jesuit Sacramento as followers of Jesus and Ignatius; we live our lives "on the way," always in a process of transformation to the best version of ourselves and the people that God created us and calls us to be every day. The mission and vision of education and formation at Jesuit High School is rooted and grounded in the "cannonball experience" of St. Ignatius Loyola—an ongoing conversion that makes it clear that God has a great desire to call us to His heart and His plan of love. God calls us first—and our lives, and the values with which we choose to live, are a response to God. This process is how we help each of our students to grow into being a Man for Others in the world!
At the end of each Mass, the priest or deacon sends us forth by proclaiming: "Go in peace, glorifying the Lord by your life." May this academic year help us all to move "ever forward" in life, to "see all things new in Christ," for the greater glory of God and the good of all people. God bless you and your families, and God bless Jesuit High School. Be assured of my prayers.
"Those who carry God in their hearts bear heaven within them wherever they go." —St. Ignatius Loyola
Rev. John P. McGarry, S.J., President