Students Continue Service Immersions Virtually "In" El Salvador and Rwanda
"It's about inspiring."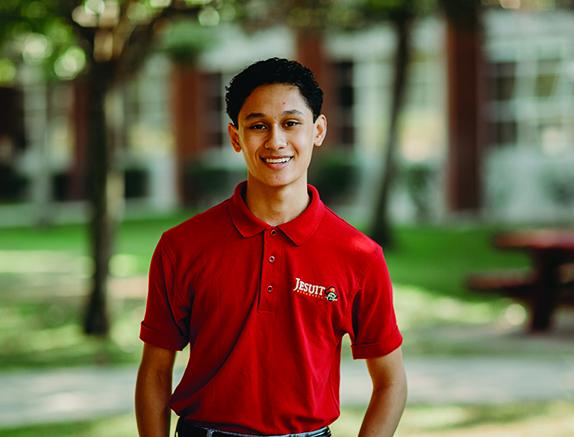 With the cancellation of in-person service-learning and cultural immersion programs due to COVID-19, Jesuit Sacramento still wanted to find a way to offer the experience with students' peers, other schools, and an organization focused on issues of service and justice to our students. Through the facilitation of the Jesuits West Province's social ministry office, JHS was connected with Faith in Action International. Their community organizers from affiliates in El Salvador and Rwanda provided a virtual encounter for students along with Faith in Action founder Fr. John Bauman, S.J.
Shifting to a virtual platform, the event was able to be more accessible. With Marauders craving interaction with other students, Jesuit Sacramento invited other Jesuit schools in the West Province to join in. Ultimately, 24 students from Jesuit Sacramento, Jesuit Portland and Brophy College Preparatory in Phoenix participated.
Students first learned about basic principles of community organizing, then heard first-hand how the communities of faith in El Salvador and Rwanda are using these principles to work for justice around issues of water, healthcare, violence, and migration.
The organizers in El Salvador shared that they are also working to address issues of access to clean, affordable water. Those in Rwanda reviewed the many facets of their work with special emphasis on the development of health clinics in rural areas.
Prior to coming together, participants did advanced preparation through recommended readings and videos to familiarize themselves with the communities and content. Although the primary focus of the two days of encounters was designed for student learning, time was also allotted for them to contribute. Space was afforded to explore the mutual experiences of living through the pandemic, to learn about Faith in Action as a whole, and to learn some of the tools of social analysis and community organizing in order to imagine how those tools might be put to use by the students.
"As an educator…while something is certainly lost in not being able to offer in-person interaction and encounters, this virtual arrangement made clear that our speakers from El Salvador and Rwanda were experts and teachers," shared Sara Brabec, Jesuit Sacramento Director of Service and Justice. "Our students were invited to support their work by sharing about it or offering material support, if possible, and engage in it in their communities with their local faith-based organizing groups."
Alonso Lee '22 was a core member of the Jesuit Sacramento student group. "I helped discuss with the immersion group the value of leading and reflecting your values on others. That advocacy work takes true leadership, meaning leaders must teach, guide, and build their community. By doing so, communities can move forward and help others. It's about inspiring."