Students Now On Campus for Full Week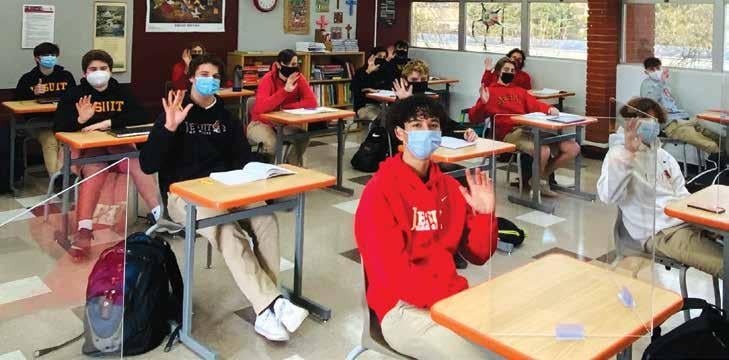 During the fall 2020 semester, faculty and students safely returned to campus for in-person classes following a hybrid program (two days on campus, two days of distance learning). The student body was divided in half, with the Red Group on campus Mondays and Tuesdays, and the Gold Group on campus Thursdays and Fridays. Family choice allowed those who preferred to continue distance learning online to do so, thanks to livestream cameras in every classroom. Many students jumped at the chance to be sitting in their desks, while others chose to continue online.
"Our teachers trained diligently to teach in a hybrid dual-delivery model, and for many of them, it was somewhat disappointing to only have one or two students in the classroom," said Principal Dr. Michael Wood '99. "It wasn't really hybrid. I think for [teachers], they wanted a real experience of in-classroom learning for [students] who wanted it."
To help increase attendance, and seeing that Jesuit's safety protocols to prevent COVID on campus were working, the start of the spring semester allowed for all students to attend all week if they chose. This resulted in many more students returning in-person, as camaraderie and activities also became plentiful to supplement the class day.
Another key difference this semester is the screening process. For students to be on campus four days a week, they must participate in the screening session for each three-day cycle, which means getting screened on Mondays and Thursdays. In other words, a Monday antigen screening clears a student through Wednesday, a Thursday antigen screening clears a student through Saturday, for both classes and activities. While it's exciting to have students on campus more often, it wasn't possible without the tremendous efforts of Jesuit's administration.
"It's been a ton of work since last March," Dr. Wood said. "It's fair to say this has consumed our lives, and as the principal of the school, it has consumed my life to find a safe way to return students, faculty and staff to campus and allow them to engage in as many elements of our mission as possible. We've had weekly meetings, multi-weekly meetings, thousands of phone calls [during] nights and weekends learning how to do this. No one's had to do this before, so there's no playbook. In many ways, we're writing our own playbook and letting that playbook be informed by experts who could advise us on how to do this correctly."
Fr. McGarry is confident that the school's second-semester plan will be successful.
"What was really important to us from the start, going back to last March, was to get us back here as soon as we could," Fr. McGarry said. "I think the plan that Dr. Wood and the assistant principals came up with was a great plan, and it served us well in the [first] semester, and I think the adjustments they made to bring us back even more fully in the second semester are fantastic."
Its effectiveness is more evident with the addition of more student activities as the semester progresses.
Additional information regarding Jesuit's second semester COVID-19 response can be found on the school's website. ν