Mass for the Feast of the North American Martyrs
Click the link to watch the celebration of our patron saints, held October 20, 7:00 p.m.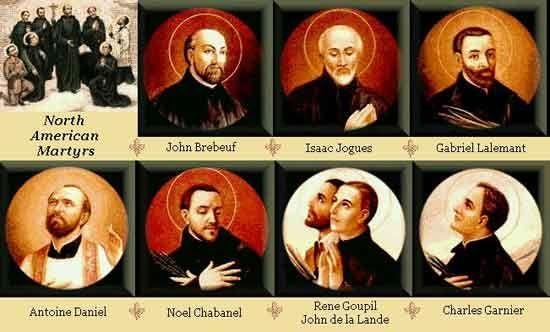 Mass will be available to view after 7:00 pm, Tuesday, October 20
In our Mass, we honor eight of the many men who ventured into the unknown to serve God and the Church. These missionaries carried their crosses into new lands, adapting their ministry to meet unforeseen circumstances. They model an inspiring balance of determination and flexibility as they gave their lives to bring God's consolation to all people in the world. In this liturgy we ask for the grace to be people, open to new challenges, who sacrifice for others with equal courage and compassion.
"They worked in the wilderness, among people with whom they had little in common other than their common humanity, far from their homelands, sometimes together, sometimes apart, always bound to the Lord." America Magazine, October 2010
Students will recognize their names from the buildings on our beautiful campus: Jean de Brébeuf, Noël Chabanel, Antoine Daniel, Charles Garnier, René Goupil, Isaac Jogues, Jean de Lalande and Gabriel Lalemant. Their feast day is October 19.