CIF Adjusts Entire 2020-21 Sports Calendar to Ensure All Sports Get Full Season
Jesuit Athletics committed to getting our Marauders conditioning at start of school year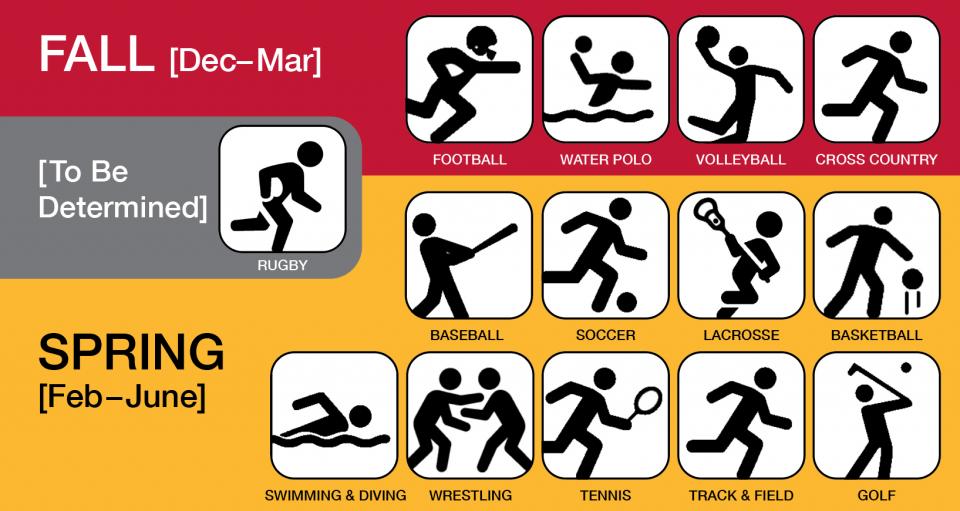 Sacramento, CA July 20, 2020 – As Jesuit High School Sacramento anticipated, the California Interscholastic Federation (CIF), the state's governing body for high school athletics, announced today that the start of the sports season is being pushed back because of the coronavirus pandemic.
The revised CIF calendar adjusts the entire 2020-2021 sports season taking the traditional Fall, Winter, and Spring three-season pattern and amending them to be combined into two seasons, Fall and a Spring.
As part of the Sac-Joaquin Section, the section calendar has Marauder teams with the earliest start date being December 7, 2020.
Some play-offs and CIF championships schedules, including football and basketball, are still being finalized. At a minimum, a regional championship will occur; however, due to the adjustments, some sports are already set to go directly to state events. These will include cross country, wrestling, track and field, and swimming and diving.
One unprecedented change to CIF policy is the ability to allow athletes to compete for both club teams and high school teams while they are in-season simultaneously. CIF directed school districts and private schools to make the final decisions regarding adopting this change. Jesuit Sacramento will be considering the next steps on this change in the coming weeks.
"We are pleased to see that all Marauder athletics teams will have a complete season. Moving to a two-season model will allow for a safe lead-in conditioning period on-campus followed by a full contest season and section playoff schedule," shared Jesuit Sacramento Athletic Director Hank Weinberger.
The sports in the Fall group include football, water polo, volleyball, and cross country. These sports will have no "dead season." Cross country, water polo and volleyball will begin competitions December 28. Cross country will hold state championships on March 27.
The first week of the football season will be January 8. Football teams can begin practices on December 7; there will be a ten-game regular season, plus four weeks of section playoffs, and regional or state championships that finish the football season in April.
The schedule for Rugby, a non-CIF sport but one with monumental history at Jesuit, traditionally runs January – May. The athletic department will be working to ensure those students have the opportunity to compete at the highest level in that sport, while still ensuring other teams that may overlap for a longer period of time with the new CIF calendar are not negatively affected.
The sports in the Spring group include basketball, soccer, baseball, tennis, track and field, swimming and diving, golf, lacrosse, and wrestling. Spring sports will play games as early as late February, with some sports continuing into June. The "dead period" for these sports will be December – February or March, depending on the sport.
Baseball and track and field are the last events on the CIF's new calendar, with championships being held in June.
Jesuit Sacramento will have small group sports conditioning, and the performance and training staff will provide athletes with nutrition and athletic-training guidance until sports officially begin their seasons based on the CIF new calendar.
"Jesuit Sacramento will be proactive in engaging all teams on-campus, no matter if class instruction is being held on-campus or remotely as long as deemed safe to do so by county officials. This will include a robust conditioning schedule for all levels following the Safe Return Task Force's health and safety protocols varsity teams have been utilizing for summer conditioning," Weinberger said.
Additionally, we will be making a special effort in the coming weeks to welcome our newest Marauders, our freshman student-athletes, to orient them to the facilities, athletic trainers, and conditioning opportunities that Jesuit Sacramento is proud to offer.
Currently, the head coaches and administration are working to determine their new plan and calendar for each sport. Multi-sport student-athletes who now may have their sports during the same season may contact Athletic Director Weinberger and their head coaches to discuss how their particular scenarios will work.
Summer conditioning, currently happening on-campus for varsity football and cross country, will continue as originally scheduled. Head Coaches Marlon Blanton and Walt Lange will provide updates as needed.
Jesuit Sacramento looks forward to a great new sports year, carrying on the tradition of outstanding student-athletics, spirit, and camaraderie that has been in place since 1963.
Go, Big Red!