Jesuit Stadium Lighting Permitting Process Begins
Dark-Sky Certified Lights to Provide Safe Environment for Players and Spectators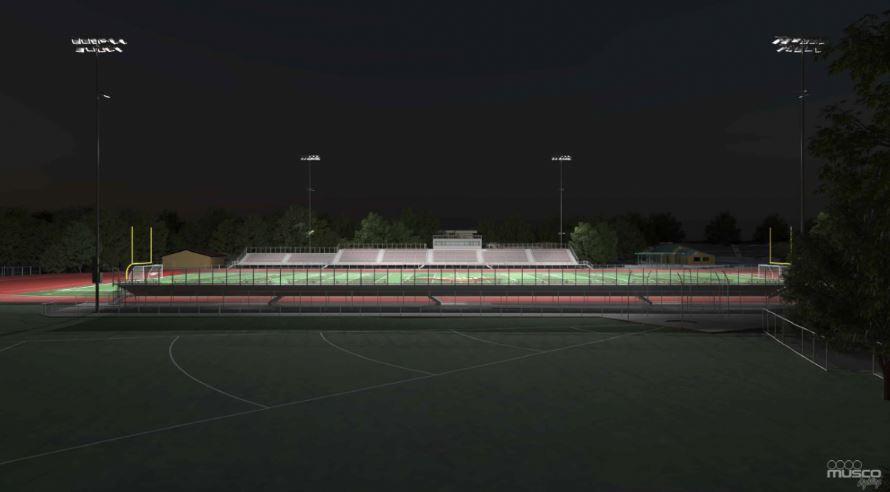 To protect players and spectators and make the best use of school facilities, Jesuit High School has applied to the County of Sacramento seeking approval for a Use Permit Amendment to install state-of-the-art lights in the stadium. The need for lighting has become increasingly evident due to the extreme late summer and fall heat, particularly for football, causing stadium conditions that present significant health risks for players, event participants, and spectators.
The proposed lighting technology eliminates light trespass and has been reviewed and certified by the International Dark-Sky Association to respect neighboring residents. Moreover, with an emphasis on moving our home football games to Friday nights, away from competing weekend daytime campus activities, will relieve traffic and reduce parking intrusion into the surrounding neighborhoods.
Jesuit is committed to serving our community as we advance our mission both in the educational setting and in being a good neighbor and will make a concerted effort to keep all informed and engaged as this process continues.
The stadium lighting application must go through several steps in the County permitting process. The most recent step was going before the Design Review Advisory Committee. DRAC is a committee that considers projects requiring review as outlined in the Zoning Code. During the April 21 DRAC meeting, the project received unanimous approval and was found to be in substantial compliance with the guidelines.
Before DRAC, another component of the process involved the initial hearing before the Carmichael/Old Foothill Farms Community Planning Advisory Council (CPAC) to facilitate and encourage direct citizen participation early in the planning process. During the April 20 CPAC meeting's public comment, attendees asked how evening stadium events would affect the local area. Others attending shared that they had not previously heard about the proposal and wanted more information. At the conclusion of the April 20 meeting, CPAC deferred making its recommendation to allow time for initial environmental reviews to conclude.
As part of Jesuit's regularly seasonal Good Neighbor meetings, local high school neighbors heard information about the stadium lighting project concept. Members of the administration, athletics, and the medical community were available to answer questions at two Spring 2021 online presentations and one Winter 2022 in-person meeting. Now that the lighting project is actively moving through the County process, Jesuit will be scheduling numerous open-house-style Good Neighbor meetings during the summer and fall. Area residents, Jesuit parents, faculty, and alumni are all invited to attend and learn more about the County review process and stadium lighting plan.
Please bookmark JesuitHighSchool.org/campus-projects, where Jesuit will provide information, FAQs, and a schedule of meetings on an ongoing basis. Community members who want to be kept informed on the Carmichael/Old Foothill Farms CPAC meetings can click here to register for County updates.
The addition of stadium lighting will transform the student life experience at Jesuit in many ways. And having cutting-edge lighting that respects Jesuit's surrounding neighborhood will enhance the stadium facilities to cultivate environments of excellence necessary for athletic safety and sustainability.
Jesuit appreciates this opportunity to keep the community informed about this exciting opportunity.