NEW VARSITY GOLF COACH WITH PGA PRO BACKGROUND COMES TO JESUIT
Bobby Siravo, to lead Marauders; new Assistant Coach also joins the program.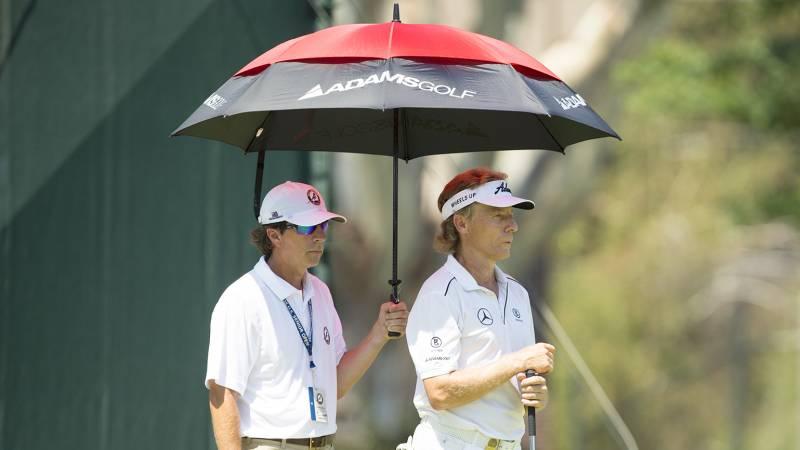 January 24, 2020
Sacramento, CA - Jesuit High School's Athletic Department announced today that Bobby Siravo would be the Varsity Golf coach for the 2020 season.
Siravo, father of Jesuit students Ben '20 and Brady '22, has a long history in Golf, including a PGA Class A Professional since 2001. Siravo was the captain of the San Jose State golf team from 1989-1991, PGA tour caddie from 2005-2006, and has since owned and operated iFit Golf in Rancho Cordova.
"Jesuit's golf program has a tradition of great teams and excellent players. I'm excited to work with these young men and lead them back to the State Championship Tournament," Siravo told Jesuit Athletic Director Hank Weinberger.
Previously, Kyle Verle '08 had been coaching with Marauder Golf since the 2016 season but recently stepped down due to a professional career change outside of Jesuit High School. Verle led the Marauders to a 2019 NorCal Championship and a 3rd place finish at the State Championship.
"My time coaching at Jesuit has been amazing. It was a pleasure and honor to give back to my alma mater that gave me so much while I was there. I will always remember the relationships with the faculty, the other coaches, the parents and most importantly, the players. Thank you to everyone for their support, and I wish them the best of luck and continued success to the golf program," Verle shared.
As we approach the start of the 2020 golf season, Fr. Aaron Engebretson, S.J., will continue as the Marauder Junior Varsity Golf head coach and will be in charge of preparing the team for tryouts. Marauder Golf has also added a third coach: Matthew Ramos '05 will round out the coaching staff as Assistant Coach.
Jesuit Golf, begins its first day of official tryouts on February 10, 2020.
About Jesuit Athletics
Jesuit Athletics is a community of student-athletes, coaches, and staff whose primary focus is to achieve academic excellence while striving to produce teams and individuals committed to athletic competition and outstanding performance. Home of "The Marauders," JHS has one of the region's most successful men's athletic programs, earning13 national championships, 22 state championships, and 312 league championships. Currently, JHS fields 36 teams, with two out of every three Marauders playing a sport. The success of JHS student-athletes both in the classroom and on the competitive field can be seen in the 24 seniors signing letters of intent last year to continue playing their sport at the collegiate level.