Alonso Lee '22, standing up and speaking out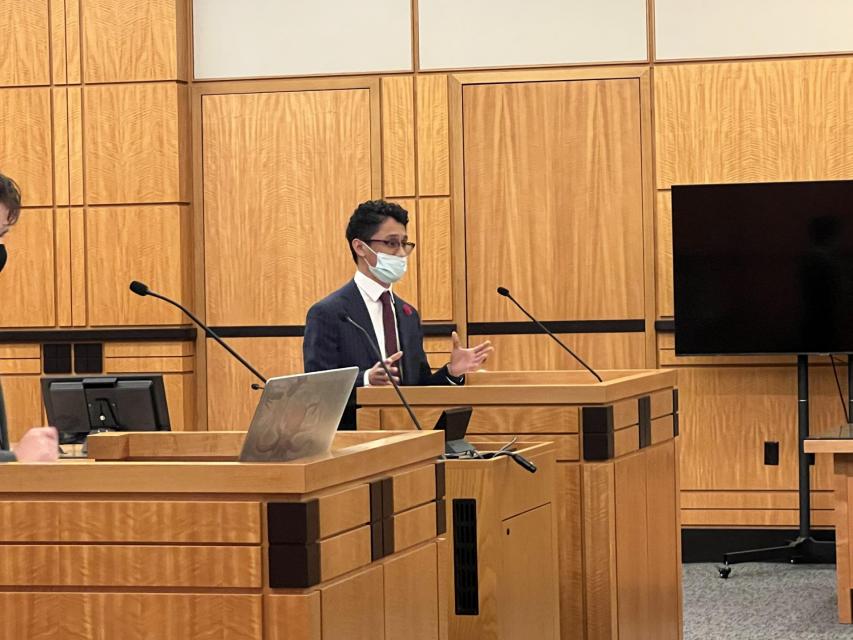 Alonso Lee '22 shares a lot of himself with the Jesuit High School Sacramento community and is never afraid to stand up and speak out about social justice issues.

Throughout his high school years he developed a lot of growth and understanding. Director of Service and Justice Ms. Sara Brabec has been a guide for Alonso helping him realize some of his deepest insights.
"[Ms. Brabec] really helped me understand 'these are ways for you to recognize some of the things that are going on here at Jesuit and here in your community and within your own self,'" Alonso said. "She helped me open myself to educate myself on different ideas. One of the big ones was mental health and immigration reform. Ms. Brabec has really helped me to see and helped those issues connect to my life."
Ms. Brabec has always noticed Alonso's commitment and curiosity. He has always been open to speaking up about social justice issues ever since his freshman year.
"From my first interactions with Alonso, his curiosity and courage stood out to me," Ms. Brabec said. "As a freshman, he joined a group of upperclassmen traveling to Washington D.C. for a conference. He never hesitated to ask questions, speak up, or engage others, despite the age difference. Since then, Alonso has continued to refine his intellectual curiosity and skills for analysis. He brings those gifts to bear not just in abstract, but in thinking about how to make the communities of which he is a part more just and loving places."
Alonso has worked heavily with the Kino Border Initiative, a Catholic organization that helps to create solidarity on the issue of border migration on the United States and Mexico border. Alonso's work with them served as the catalyst that pushed him to deepen his understanding.
"It created a shock within me that pushed me to say 'okay I need to push myself into understanding that maybe what I've been told or have experienced has been very different from other people,'" Alonso said.
Alonso has always found support from his teachers.
"The teachers aren't there just to teach, aren't just there to serve you academically and for you to be there for academics," Alonso said. "But they push you to apply your knowledge and to apply what your interests are and see how you can use those interests and curiosities to help you build a bigger foundation."
This year, Alonso has served as the first ever Equity and Inclusion Officer. Tommy Contreras '22 recognizes how he is always working for the betterment of others.
"I believe one of Alonso's best qualities is that he is a team player," Tommy said. "He strives to live out the Jesuit motto of being a 'Man for Others' and looks out for everyone in his community. This quality is definitely one which makes him a strong leader. [He] is always trying to work with others to help make our community here at Jesuit High School better."
Mock Trial has also been an activity that has strengthened his passion for law and working on social issues.
"Mock Trial has been really crucial and helped me build both a passion for law and a passion for social justice," Alonso said. "It has really taught me how lawyers think and has really helped me in clarifying my thoughts and arguments."
At Jesuit, Alonso has really been able to build on his passions and interests which has influenced his desire to attend law school so that he can help those seeking asylum.
"I want to go into law specifically and work with asylum law, helping asylum seekers both peacefully and smoothly transition into entering the U.S. or Canada," Alonso said.
Alonso is always striving to make a difference, working hard to embody the Jesuit "Men for Others" motto. He has already left his mark on his contemporaries and hopefully his model can inspire others to join the charge for change.