Adam Sherif '22, Dedicated to service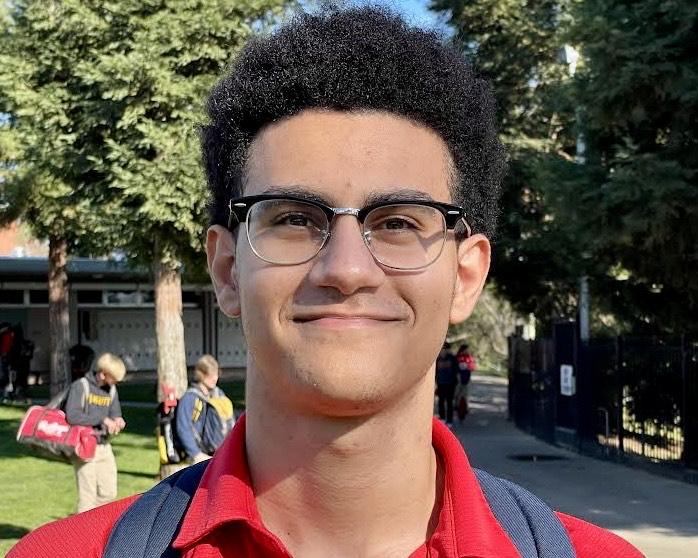 For the past four years, Adam Sherif '22, a senior at Jesuit High School Sacramento and the president of Jesuit's Key Club, has been making a meaningful impact in the Jesuit community and in the greater Sacramento area.

Throughout his time at Jesuit, Adam has been involved in Team Care, the Black Student Union, the Pre-Med club, the Arab/Muslim Student Union, and the Key Club. In addition to those clubs, Adam has done lots of important service outside of Jesuit.
Adam did not always have the drive for service he has today. He believes his drive for service and justice was accelerated when he got involved in the Black Student Union.
"I joined the BSU my sophomore year," Adam said. "I felt disconnected from my own culture and joining the BSU made me realize the hardships that we face, and so I realized that there needs to be some sort of justice."
He has also founded a new club, the Arab/Muslim Student Union where he serves as the president. According to Adam the goal of the club is to give Middle Eastern students at Jesuit a familiar place to find community.
"The club is a place for Middle Eastern/Muslims to identify with," Adam said. "Often they don't know if they fit in with Asians, Africans, etc. Also, Muslims need more representation within a majority Catholic/Christian environment."
Alonso Lee '22, who works with Adam in the office of equity and inclusion, believes Adam has an exceptional ability to see different perspectives of issues.
"I have had some of the most interesting conversations ever [with Adam] because we can talk about Middle Eastern geopolitics, to the best ways to develop the Arab Student Union," Alonso said. "Adam is just a cool man that can help you see another side of an issue or idea that one never would have considered."
During COVID-19, Adam made an impact by serving in many different areas such as vaccination assistance. He decided that he would help by working at a vaccination clinic in Del Paso Heights, an area that has been hit especially hard by COVID-19.
"The past year has been really hard for the whole world and particularly in lower income communities," Adam said. "They've been struck the hardest by COVID, so being able to provide over 15,000 vaccinations in the span of these months has really put a smile on my face."
Adam's work during COVID-19 also extends to the isolation and loneliness caused by quarantine. He felt that those in senior homes lost connection with younger generations during the pandemic, so with the help of a friend, they started a nonprofit organization to confront the issue.
"We reached out to senior homes and we set up a digital program," Adam said. "We also got younger volunteers in college and high school and we paired Seniors and volunteers based off of similar interests. We wanted to rebuild that generational connection that is not as prevalent today and got worse during COVID."
In addition to putting a lot of time into COVID-19 service, Adam still finds time to help students with limited opportunities to reach their full potential. Adam and some friends from other local high schools have started an organization called Free Tutoring Center.
"It's a tutoring service where anyone who is struggling could sign up on our website and get tutoring in the field that they want for free and as much as they want," Adam said. "It's been great to see how the gift of education is being appreciated by these kids and the ones that are motivated are receiving the help that they need to foster individuals that will lead in the future."
Education is something that Adam highly values not only for others but for himself, a lesson he learned from his father.
"My dad always told me education is a gift; it can't be taken away from you,"Adam said. "My dad is a doctor and that is a very high ranking job and you would just think he's on top of the world. But even my dad continues to keep learning more and more in his field everyday and that's something he always tells me to strive for learning more and more and more."
Part of Adam's drive comes from his father, and he credits the other half to the supportive and service minded faculty at Jesuit like Assistant Principal for Instruction and Student Life Dr. Fadia Desmond, Black Student Union moderator and Director of Equity and Inclusion Mr. Jordan Brown, and Director of Service and Justice Ms. Sara Brabec.
"[Dr. Desmond, Mr. Brown, and Ms. Brabec] were all very enthusiastic to help me with the ideas that I had for service and that in return kind of motivated me to do more service and come up with new ideas," Adam said. "There was never a time where I didn't feel supported by them and that constant love and support that they showed me was kind of my drive."
Dr. Desmond, helped Adam start the Arab/Muslim Student Union and has seen firsthand the kind of person Adam is.
"He is goal driven, but constantly includes bettering the lives of others in his goals," Dr. Desmond said. "He is self motivated and a self-starter. Adam doesn't wait for others to make things happen, he makes things happen. Our school is a better place because he is a member of this campus community."
Adam is the president or a leader of many clubs on campus. He believes success in leadership comes down to planning and transparency.
"A leader should have communication and understanding," Adam said. "As a leader you have to let everyone know what you're planning to do."
Adam has found a genuine love for service, a love that he hopes can continue to the future generations of Marauders. He finds that his love for service is fueled by the human aspect.
"Being able to see the gratification that other people have for what you did for them is something that motivates me," Adam said. "Whenever I work at the vaccination clinic, I would always get people that would have stories of how their family was affected by COVID. They'll tell you how much your time is valuable to them and it makes you feel good because everyone has bad moments in life and you're helping them put that behind them and become a better person."
Through service and managing clubs, Adam has made a major impact on Jesuit and on the Sacramento community. He has found a passion for helping others in service and clubs, and hopes to continue in the future. After Adam graduates from Jesuit he plans on continuing his service in the medical field, the BSU, and tutoring. With Adam's commitment to service he'll be sure to make an impact in whatever path he takes.