Braden King '22, sky's the limit for this talented runner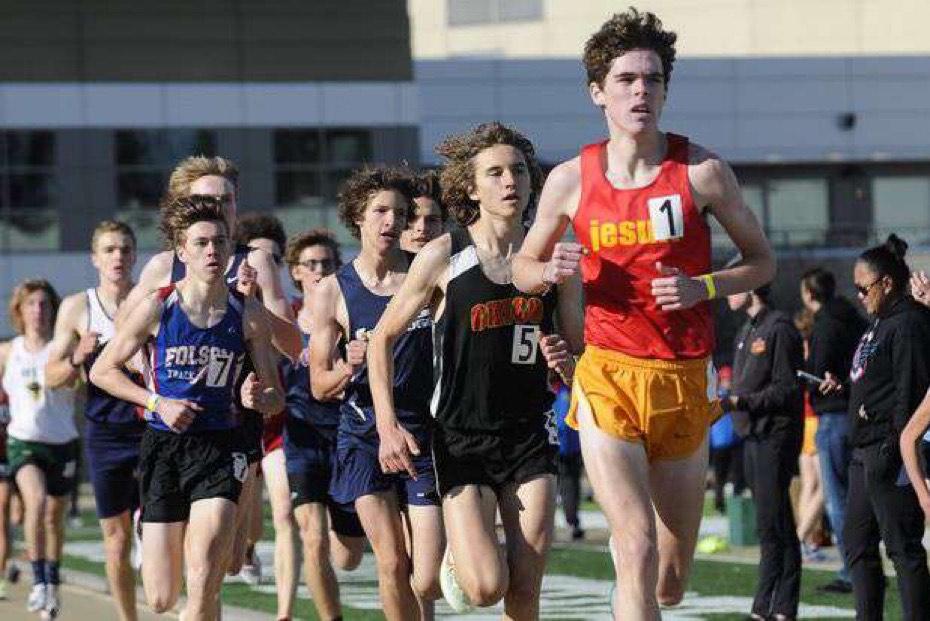 Talented runner and student, Braden King '22 has made an impact on the Jesuit High School Sacramento community on the track and in the classroom.

Last fall, Braden committed to Yale University, where he plans to continue his running career. Braden started long distance running in middle school, and recalls why he decided to continue to run in high school.
"Once I got to high school I really liked the Jesuit cross country community, so I dropped soccer, and then decided to focus all on running and I haven't regretted it since," Braden said.
Focusing on Cross Country has paid off for Braden as he placed tenth at the CIF State Meet and first in multiple meets in the 2021 season. Cross Country Coach and Science Teacher Mr. Nick Lai attests to Braden's running skills and has been since he was just a freshman.
"Braden came to us pretty talented already, he was the top guy in his freshman classes," Mr. Lai said. "He didn't make varsity his first year, and since then he's really taken kind of a lot from the leaders on our team from the past like Matt Strangio, his brother Conner, and Colin Ryan. I think Braden saw what was possible with cross country. He has really stepped up and become a front runner for us. He really turned it on."
Mr. Lai believes Braden's impressive times are due to his aggressive running style, and the realistic goals he sets for himself.
"Braden's really aggressive so as a racer he knows how to take it out," Mr. Lai said. "He knows how to take the lead. He's not afraid to take the lead. He dreams big. He knows he can hit those goals, so for Braden nothing is really impossible. He knows what he is capable of and he likes to win."
Just like he took inspiration from the past runners when he was an underclassman, Mr. Lai recognizes Braden becoming a role model and leader for the younger runners on the team.
"He also is a really good mentor to our younger guys," Mr. Lai said. "He and a few of the other seniors and juniors have really stepped into this leadership role that was pretty lacking because of COVID."
Mr. Lai remembers when he and other runners helped an injured man on the bike trail.
"[Braden] and a bunch of the other seniors went out for a run and they ended up running into a guy that fell and broke his arm, broke his leg," Mr. Lai said. "It was something that was really severe and he had blood all over the place out on the bike trail. So he and a bunch of those guys stayed with the guy. They flagged down a biker. One of them had their phone with them, so they called 911 and they got the guy to the hospital."
Braden has proven himself to be a man for others and a great runner, but he is also a good friend to his twin brother and fellow cross country teammate, Ian King '22.
"I would describe Braden as very compassionate and inventive," Ian said. "He is a great, supportive friend and he is a creative thinker, always thinking creatively to do good."
Deciding which university he wanted to spend the next four years or longer on wasn't easy, but he eventually decided on Yale in September because of both their academics and their cross country team.
"There were a couple of options where I was debating to focus more on sports or academics and then I went to Yale and I mean they're really well known academically and I thought they had a lot of potential for their team wise," Braden said.
Ian believes that Braden will have a promising future at Yale and his success will continue throughout his life.
"I see him doing amazing things in the future," Ian said. "He will be running at Yale next year and I see him accomplishing all his goals there, with the support of his teammates and his loved ones back home. I believe he will find what he loves and work for the good of the world."
As Braden leaves Jesuit, he has left an impact with his performance and leadership in the distance running program.