Cameron Dunbar '22, Growth of a leader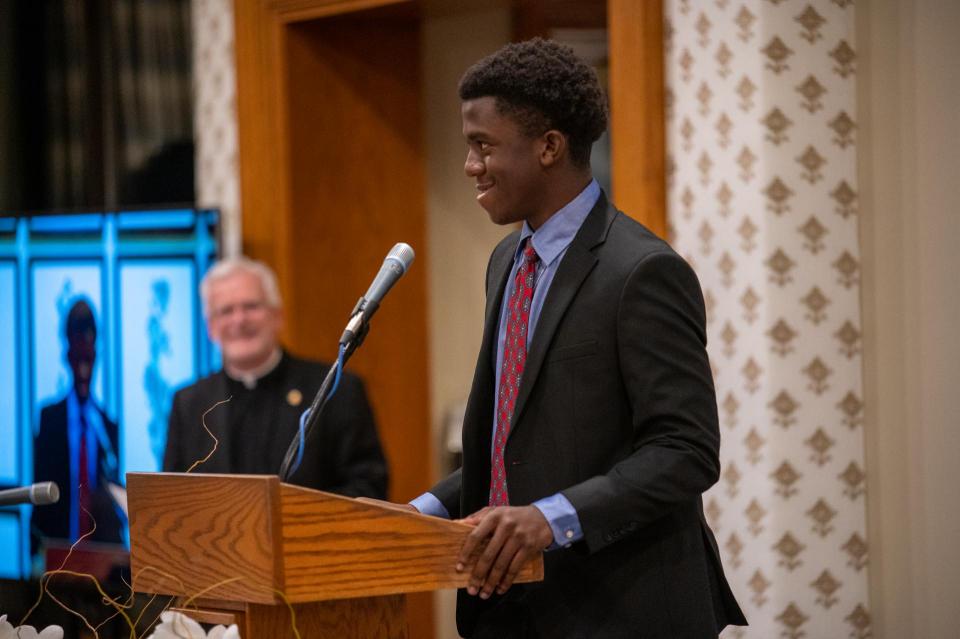 Cameron Dunbar '22, the Student Executive Council President of Jesuit High School Sacramento, is always trying to make sure he is setting a solid example for the rest of the student body. Being a part of multiple sports and the Black Student Union, Cameron has been involved in the Jesuit community and stepped up as Student President.

Prior to his time at Jesuit, Cameron was unsure of what Jesuit would entail for him; however, he knew that his outgoing personality would help him in adjusting and meeting new people.
"Before Jesuit, something that defined me was that I was always outgoing in life and in sports," Cameron said. "I did not really know anyone going into Jesuit but I knew because I was outgoing, I would click with people like I have done. When I was in middle school I played basketball and [at Jesuit Junior Marauders] I met some of the guys here and that helped me move into the process better."
Cameron notes all of the activities he has been a part of, and how they helped him in his transition to high school.
"I have done basketball and football," Cameron said. "I am in the Black Student Union. All of those, especially football, made my experience here the way it is. Freshman football helped me adapt here most because you are already introduced to 50/60 guys before the first day of school and that made it smoother to come into the brotherhood here."
In his freshman year, Cameron played football and took Algebra 1 where he was able to find places to grow and people to support him. In those activities, he found a coach and a teacher that helped him and made an impact on him.
"Coach Blanton definitely [is impactful] because he was always there for us," Cameron said. "Mr. Chandley in math definitely helped because he helped me adapt to how I would learn here and made the math very understandable and did not leave the topic until the whole class understood it."
Of the many lessons Cameron has learned, the unique way Mathematics and yearbook teacher Mr. Chandley taught math was especially memorable and easy for him to understand.
"I try to teach math in a very narrative, process-oriented style," Mr. Chandley said. "I sometimes tell little stories in class (just bits of math history that I happen to know from watching a lot of PBS and reading a lot of books as a kid), and I even encourage students to look at a math problem as kind of like a little story all its own–with a beginning, middle, and end–and to think about why we do each step that we do. The idea is to be able to clearly and correctly articulate each step of the process from problem to solution."
Cameron has also found more confidence in himself. Coach Blanton has noticed the way Cameron has grown and developed as a person throughout his four years.
"He has more confidence and belief in his own ability on and off the field," Coach Blanton said. "Off the field, I believe that he has become more aware that what he does matters and that people look up to him. So he has to keep working to do the right things. I am excited for Cam and I am proud about how far he has come in our time from when we first met. I think he has come a long way."
An accomplishment that Cameron has been proud of is becoming the Student Executive Council President. He understands that he has to be aware of how he acts and has to be an example for all other students.
"Being student body president changes my perspective because I can't really do much wrong because I am modeling what everyone else should be doing," Cameron said.
As the Student Executive Council President, an athlete, and member of clubs, he is an important part of this Jesuit community. Cameron does his best to be a person other students can look to and share his outgoing personality with others.