Griffen Dresbach-Hill '22, passionate learner bringing energy on campus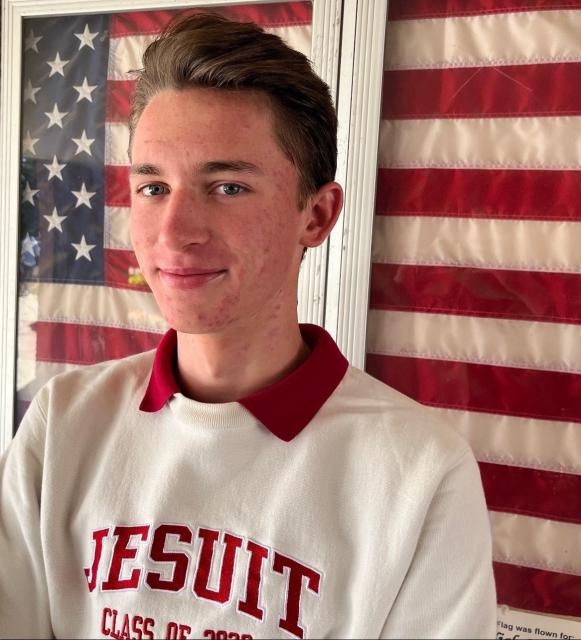 In just two short years at Jesuit High School Sacramento, former junior transfer Griffen Dresbach-Hill '22 has been a powerful force of friendship and compassion.

Unlike most of his classmates, Griffen did not start at Jesuit in his freshman year. He transferred in his junior year because he wanted to have a more challenging curriculum. The switch to Jesuit is one that Griffen does not regret.
"When I first came to Jesuit I was welcomed with open arms," Griffen said. "I really appreciated everyone that I met during my first year, whether it was on Zoom with all the teachers and their obvious passion for teaching their subject or the students that I met on campus. I felt welcomed, I felt wanted, and I felt excited to be learning again."
Ryder Spradlin '22 met Griffen early in their junior year and, similar to most, was shocked by Griffen's energy and passion.
"When you first meet Griffen, you'll instantly be struck by his electric enthusiasm for everything he does," Ryder said. "He will give you a powerful high five for completing a math problem or celebrate loudly after a success in your life. This energy comes from his love for his friends and the world around him. His optimism resonates in any activity he participates in because he sees the best in others and conducts himself in a way where he will give his full effort towards the things he cares about."
For Griffen, the theater stage has been a place to channel his energy and creativity. He was in his first production in the fifth grade as Monkey #3 in "The Jungle Book" and found a passion that has continued throughout high school.
"Theater has helped me come out of my shell," Griffen said. "It was a place where I felt safe to take chances and explore new parts of myself that I never would have thought to explore."
Griffen also displays his active mind in class by engaging in class discussions. English Teacher Mr. Ted Hornback '83 gives credit to Griffen for always being inclusive and enthusiastic.
"He's an active listener and deft facilitator who will ask a clarifying question or draw out a classmate to expand on a tentative statement," Mr. Hornback said. "Griffen recognizes the intellectual value not only of his own voice in these discussions, but of the voices of his classmates, whose insights may contribute to building a greater general understanding."
The ability to bring people together and bring out ideas is something that Griffen learned while in Boy Scouts.
"Scouting helped me develop my leadership skills; it helped me become a more confident leader," Griffen said. "Scouting really stresses values that are important to everyday life and come in handy in a work environment, so I'm grateful for my time in scouting for helping me become a more complete person."
Currently, Griffen has set his sights on being an aerospace engineer, but he has not decided which college he will attend next year; however, he has proven at Jesuit that with his attitude and passion for learning, he will do well wherever he goes.