Matthew Mellas '22, a Man for Others with massive potential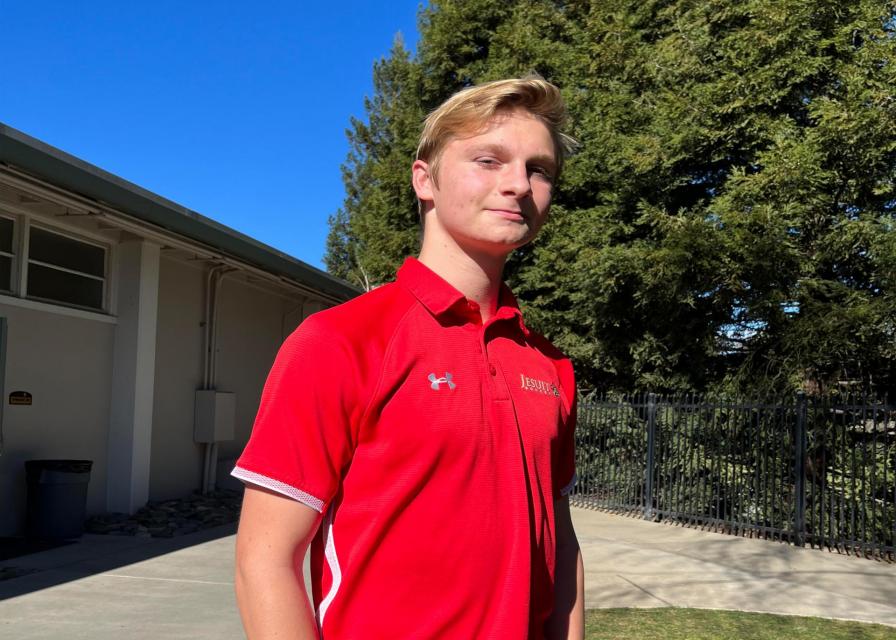 Matthew Mellas '22, a senior at Jesuit High School Sacramento, has shown throughout his four years that he is a man of many talents and passions.

In addition to being an incredible student, Matthew is a varsity soccer player, track and field athlete, cellist in two orchestras, singer in the chamber choir, and Student Council member. He is also the president of the Latin Club, National Honors Society, and Ski and Snowboard Club.
World Language and English Teacher Mr. Jon Witucki has been Matthew's Latin teacher for three and a half years, and the club moderator for the Latin club. Mr. Witucki gives high praise to Matthew and his academic achievements while in his class.
"He is a young man of uncommon intellectual capability, with strong and penetrating skills at critical analysis," Mr. Witucki said. "His study skills, from the time he was a freshman, are remarkable, and he has a prodigious memory. He is the type of student who shows his intellectual maturity by continually going above and beyond assigned work to arrive at a truly personal knowledge of course material."
Matthew's excellent grades have earned him high honors in every semester of high school. He is also a finalist in the National Merit Scholarship competition because he was one of 15,000 students across the nation – and one of four Jesuit students - with exceptionally high PSAT scores. His drive for education comes from a thirst to problem solve.
"My drive in education has always been fueled by a passion for learning," Matthew said. "I have always enjoyed trying new things, learning new skills […] I think that by learning in different subjects and in different fields I can approach problems and solve them much more easily and effectively."
Matthew has put a lot of this energy and effort into the performing arts programs as a cellist in the honors orchestra and the honors symphony orchestra. He is also a baritone in the honors chamber choir. His time in these programs has grown his interest in the arts.
"I enjoy the performing arts programs at Jesuit because they allow me to explore my interests side by side with my brothers," Matthew said. "I have enjoyed every minute of creating and performing music while forging some of my closest friendships."
Because Matthew is the president of three clubs and a vocal member of many other clubs and performing arts programs, leadership ability is important. Matthew believes that an essential part of leadership is leading by example.
"The best leadership is by example," Matthew said. "I try to live out the values that I want the people that I lead to learn from and to model. I think that I try my best to be a man for others and help other people do that as well."
Another co-curricular that Matthew has been involved with is Campus Ministry. Matthew was a retreatant of Kairos 151 and the rector of Kairos 153, which is the head leader of the Kairos retreat. His time in Campus Ministry has helped him grow as a leader, student, and "Man for Others."
"Jesuit has really helped understand and develop myself into a man for others," Matthew said. "I think that a lot of their ministry and leadership opportunities are very helpful and I really love getting involved in the school. It has helped me become a lot more confident in myself as a leader and as a student."
Apart from Matthew's success at school and in co-curriculars, he is a dedicated friend. Matthew's friend and co-president of the Ski and Snowboard Club, Ethan Smith '22, tells of his long history with Matthew.
"Matthew and I have been friends for a very long time," Ethan said. "His dad put in floors in my house and Matthew came over and we've been friends ever since. We have gone through kindergarten through eighth grade together and now high school […] I would describe Matthew as someone who is outgoing, intelligent, and pushes himself to be the best version of himself."
Besides his peers, Matthew also gets praise from faculty. Mr. Witucki describes Matthew in glowing terms, adding that even though he is accomplished he remains modest.
"Matthew is a talented and creative young man, whose determination and resolve deserve great credit," Mr. Witucki said. "Despite all of his accomplishments, his character is quite humble, and his attitude is that he has many more worlds to conquer."
Matthew could not get to where he is today on his own. He gives credit to his mother, brother, and teachers for their continued encouragement and assistance along the way.
"Really every family member and teacher that I have had has been a great support for me," Matthew said. "My mom is a particular inspiration. She is always there to help me out and to push me whenever I need it. My brother is also an inspiration for me, he graduated from Jesuit a long time ago and I have always looked up to him."
When Mr. Witucki looks back on his time with Matthew he believes that he has taught one of his brightest students ever.
"It has been my distinct pleasure to have taught such a magnanimous and genuinely talented student such as Matthew," Mr. Witucki said. "He is positively one of the most intelligent and capable students whom I have ever had in my classroom. This mature student is fascinated by ideas, and he has always been in the highest echelon of my Latin students."
Matthew does not know what college he will attend yet, but he plans on getting a degree in mechanical engineering. If his time at Jesuit is any indication, he will be a great student, leader, and friend at whichever college he chooses.