Michael Palchak '22, great athlete, teammate, and friend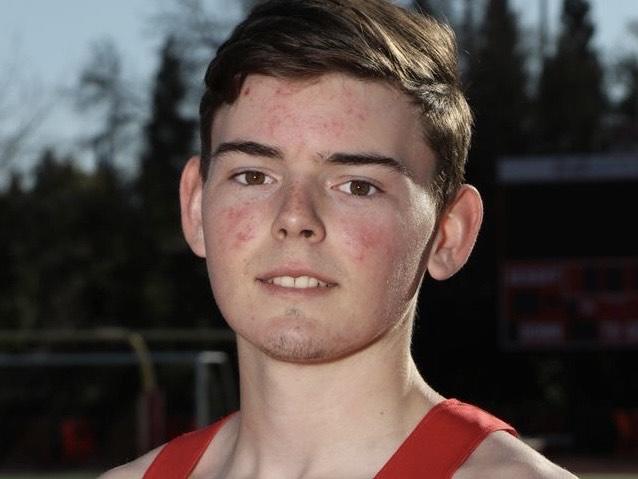 Kind. Dedicated. Generous. These are words that have come to describe Michael Palchak '22 throughout his time at Jesuit High School Sacramento.

Michael is known throughout campus as a funny and reliable guy.
"Michael Palchak is the epitome of what a friend is supposed to be," said longtime friend Bryan Hicks '22. "A guy who you can kick back and relax with, joke around with, and get a good laugh out of. He's funny, friendly, smart, and extremely kind. If you are ever in trouble, need help or anything Michael is a pillar of support you can go to for help."
Michael gets similar praise from members of the faculty. Science Teacher Ms. Amy Becker has noticed his kindness and dedication.
"[Michael] is hard working, helpful, dedicated to what we are studying and making sure he understands," Ms. Becker said. "He is willing to spend time in class to make sure people in class he is working with understand things too."
During Michael's junior year, when Jesuit utilized a hybrid system with optional in-person classes, Michael attended in-person school consistently and Mr. Philip Nuxoll '83 experienced Michael's dedication to understanding.
"Michael was one of two juniors who consistently showed up to class in person during [hybrid learning]," Mr. Nuxoll said. "I enjoyed our in-depth discussions of the material once the Zoom meetings ended for the rest of the class."
Michael has been involved in track and field for all his four years at Jesuit, and he is currently the throws team captain of the varsity shotput and discus team, a title he first earned in his junior year. Gian Gonzalez '22, Michael's teammate on the throws team for the past four years, appreciates the gifts Michael brought with his leadership of the team.
"Michael's leadership has definitely created a friendlier and uplifting environment," Gian said. "He has grown as a leader by lifting up others when they are having a poor throwing day. He always picks me up at meets when I'm struggling and we hype each other up as a result of that. He's a great athlete, teammate, and equally great friend."
Michael's success as an athlete and a student has a lot to do with the supportive coaches and teachers he has been fortunate to have. Michael believes the wide variety of experiences he has had at Jesuit has enabled his love for learning.
"Jesuit offers such a diverse environment, and there are a lot of different things and subjects to be explored," Michael said. "There are so many different opportunities, a lot of different electives, unique teachers and teaching styles, and they all have a different way of presenting information, and it is always fun to learn."
After being a classmate and friend of Michael's for the greater part of both of their lives, Bryan can also spot the positive growth that Michael has experienced during his time at Jesuit.
"Michael has always been a caring and generous friend; entering Jesuit, however, really enables Michael to come into his own as a friend," Bryan said. "[Michael] has matured into a steadfast supporting friend. I think he is more confident and has found his identity as a man and person. Jesuit has enabled Michael to grow in all facets and mature into a spectacular person."