Nick Kasten '22, accomplished leader and musician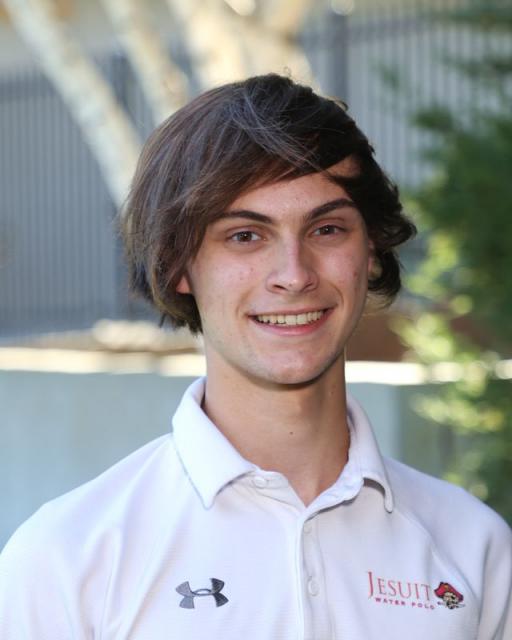 Nick Kasten '22 is known by teachers and students to be a brilliant and competent student as well as a remarkable musician. His enthusiasm and special talents leaves a lasting impression on the community of Jesuit High School Sacramento.

For Gian Gonzalez '22, Nick's intelligence and eloquence enchants his contemporaries.
"Nick Kasten is one of the most brilliant people I have met from academics, music, and just general life," Gian said. "He is by far one of the most eloquent speakers I have ever listened to. When he talks, I can't help but want to hear more of what he has to say."
Nick also has great musical aptitude. He sings in the Jesuit Chamber Choir and performs in multiple Jesuit bands. Instrumental Music and Band Director Mr. John Cargile has seen Nick excel in music through hard work and talent.
"Nick is a remarkable musician," Mr. Cargile said. "[He's] an accomplished oboist, pianist, vocalist and composer. His musicianship outshines almost all of the students I have taught in the past ten years."
While his great musicianship has been present throughout the entirety of his high school career, his growth as a leader has highlighted his ability to adapt and share his talents.
"While Nick has always been an amazing musician, I have seen him grow as a leader amongst his peers, taking on a mentorship role in the ensembles and setting an example for others to follow," Mr. Cargile said.
Nick is a part of the SYS (Sacramento Youth Symphony) Premier Orchestra, which was his first time being a part of a professional-level ensemble. Nick believes his maestro made a big impact on his life and his perspective on music as a whole.
"Maestro Neumann was and still is one of the most influential music educators in my life, as his direction in the Premier Orchestra shaped my understanding and appreciation for orchestral music beyond what I could've imagined," Nick said.
As part of the orchestra, Nick invested as much time as possible into practicing and improving. This effort has paid off in his eyes, and it gives him a great sense of accomplishment.
"My second ever performance I got the opportunity to be able to perform the solo English Horn part for the 2nd Movement of Dvorak's 'New World Symphony,'" Nick said. "Again, I practiced so much that when it came time for the performance, I felt so rewarded performing the second movement solo with soul."
Nick's effort in both academics and co-curriculars extends not just to himself, but to those who know him.
"[Nick] sticks to the things he believes in and strives to improve himself and those around him," Gian said. "He is a fantastic student, performer, singer, oboist, pianist, and friend. My senior year would not have been complete without him."
Jesuit has offered Nick the opportunity to discover himself, grow his relationships, and be a part of the brotherhood and community.
"Jesuit has held me as an establishment through all the stages of my life," Nick said. "As a naive and boisterous freshman, who felt he could walk wherever he pleased; as an emerging and accomplishing sophomore, learning the struggles of balance; as a discovering and self-reflective junior, taking the pandemic to connect with his family and himself; and finally as a re-emerging and social senior, engaging and participating in as much as he can."
Nick's strong presence, personality, and talents will surely impress many others in the future. However, with his graduation from Jesuit, his presence will surely be missed.
"Nick is remarkable, competent, and analytical, [but] it is really his empathy, passion and creativity that sets him apart from his peers," Mr. Cargile said. "Nick will be sorely missed upon his departure and he will leave very big shoes to fill when he walks across the stage at graduation."