Important Dates for the 2020-2021 School Year
First Day, Holidays, Finals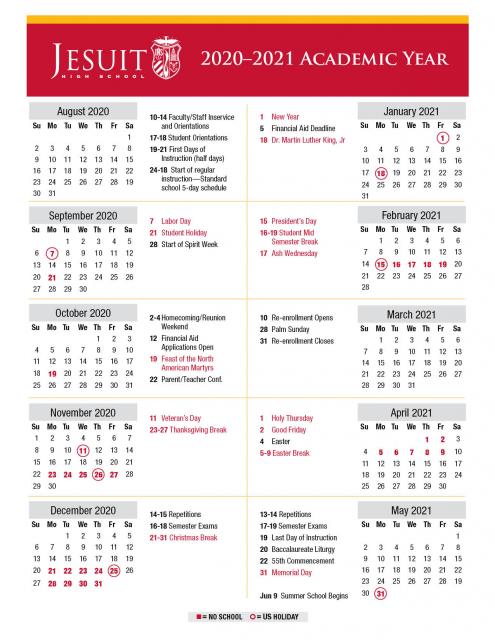 Download Year-at-a-Glance Calendar
This quick "at-a-glance" calendar includes major school holidays and traditions that our school year is built around. Our more detailed calendar will publish on our website later this summer. As we move forward together we want you to have these important dates for your planning.
2020
August 10–14
Faculty Inservice & Orientations
August 17–18
Student Orientations
August 19 – 21
First Days of Instruction (half days)
August 24 – 28
Standard school 5-day schedule. Start of regular instruction.
September 7
Labor Day – Holiday
September 21
Student Holiday
November 11
Veteran's Day – Holiday
November 23–27
Thanksgiving Break
December 16–18
Semester 1 Finals
December 21–31, 2021
Christmas Break
2021
January 1
New Year – Holiday
January 18
Dr. Martin Luther King, Jr. – Holiday
February 15
President's Day – Holiday
February 16–19
Mid Semester Break
April 1–2
Holy Thursday & Good Friday – Holiday
April 5–9
Easter Break
May 17–19
Semester 2 Finals
May 20
Baccalaureate Liturgy
May 22
Graduation