A Letter From Our Wellness Counselor
Kasey Cardinale, MFT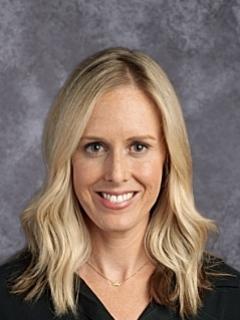 Dear Jesuit Parents,
My name is Kasey Cardinale, MFT, Wellness Counselor for Jesuit High School. This role is intended to support the work of the counseling center on campus. I am an alumna of St. Francis High School, Sacramento, completed my BA in English from the University of San Diego, and received my MA in Clinical Psychology from Pepperdine University. Licensed since 2010, I advocated for the start of the wellness program at St Francis High School (2008-2012) and then moved to a more clinical role at Eating Recovery Center of California, Sacramento (2013-2018) doing family work and psychoeducation. As a parent myself, it is important to me that school is a place that feels safe, and that asking for help is strongly affirmed.
The primary goals of this position are to support the school-wide focus on (1) recognizing the signs of mental health distress in the community and (2) educating the community on resources available to assist life and hope. While I will be meeting with students on an individual basis to assess and to refer, my focus will also be on running student small groups, educating faculty/staff on the needs of our students/families, and advocating for students in the classroom and/or community resources as needed.
While a student has the right to privacy, as a minor and student under my care it is important for me to be in contact with a student's guardians when appropriate as best standard of care. At the start of my student interactions I highlight the limits to our confidentiality. These center around individual safety and safety of others. I also strongly encourage students to involve their family system as supports, and may ask that you come in for a meeting or be available by phone to be a part of the solution-focused goals. As a member of the counseling team, I also inform students that their academic counselor will be aware of a meeting with me so that academic counselors know how to best support should I not be available on campus.
Small groups for students start in early October and they will run throughout the school year. These small groups generally meet once a week during the school day and last for six weeks. Some of the topics we cover include grief/loss, loneliness and fitting in, depression and anxiety, divorced or separated families, and relaxation/mindfulness skills. Please encourage your sons to stop by my office in the Wellness Center if they are interested in joining any of these small discussion groups.
Kasey Cardinale, MFT Wellness Counselor
Direct Line: 916.480.2109
Email: kasey.cardinale@jesuithighschool.org