California Scholarship Federation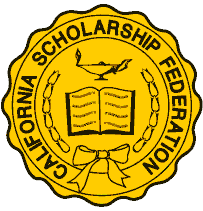 Moderator: Judi Brown
About
CSF Applications California Scholarship Federation (CSF) is an honors organization that recognizes students who have demonstrated outstanding academic achievement. Spring Semester applications for new and returning members are now available in the front office and in GP206. Membership has academic qualifications – see the application for details. A grade report must be submitted with the application. Applications are due on or before Friday, January 20th and may be submitted to the Front Office or GP206. Email any questions to Mrs. Brown at judi.brown@jesuithighschool.org.
Students who have been members of CSF for four of their last five semesters of high school qualify for a lifetime membership.
The applications are taken each semester. Reference the CSF lists (on the back of the application) to complete the application. You must attach a copy of your previous semester grades.
Peer Tutoring
When & where
(Beginning January 30th)
Mondays through Thursdays after school from 3:05 – 4:00 pm in GP206
During community periods in GP206
Who is eligible for tutoring?
California Scholarship Federation (CSF) provides free tutoring to students on a drop in basis. We provide tutoring to all students who are in need. Students come sign in and receive a free tutor for any subject they may need.
Why use a tutor?
These tutors usually have had the same teacher, thus providing unique insight into what the teacher wants from their students and in their assignments. Some students come to the same tutor regularly throughout a week.
Learn more https://csf-cjsf.org/
Application