Lenten Catholic Social Teaching Series
Studying and Praying with Catholic Social Teaching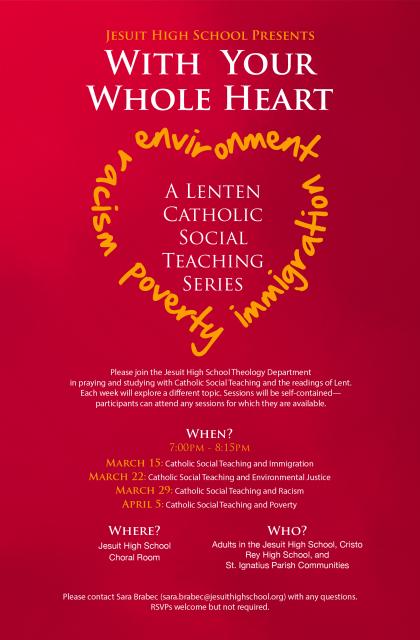 The Jesuit High School Theology Department invites all parents and guardians to participate in a Lenten Study and Prayer Series. This series will explore topics of Catholic Social Teaching in relation to the scripture readings and themes of Lent. Each week's session will be led by a teacher from the Jesuit Theology Department and will model the Ignatian pedagogy used in the classroom with students. Sessions will include an overview of current events related to the week's topic, a synopsis of Church teaching on the issue, time for individual reflection and prayer, and avenues for acting faithfully in light of the material presented. No prior knowledge of topics is required for participation.
We will gather in the Choral Room in Brebeuf Hall at Jesuit High School on Wednesday evenings from March 15-April 5. Each session will run from 7:00-8:15 p.m. An optional social at 6:30 p.m. will precede each session. Participants are invited to participate in all sessions of the series, but individual sessions will be self-contained and accessible to regardless of attendance at previous or later sessions.
This event is open to parents and guardians in the Jesuit and Cristo Rey High School communities, as well as parishioners of St. Ignatius Parish, Sacramento.
Contact Ms. Sara Brabec (sara.brabec@jesuithighschool.org) with any questions. RSVPs welcome but not required.