Applications due for Ignatian Family Teach-In for Justice 2021: Imagining a Path Forward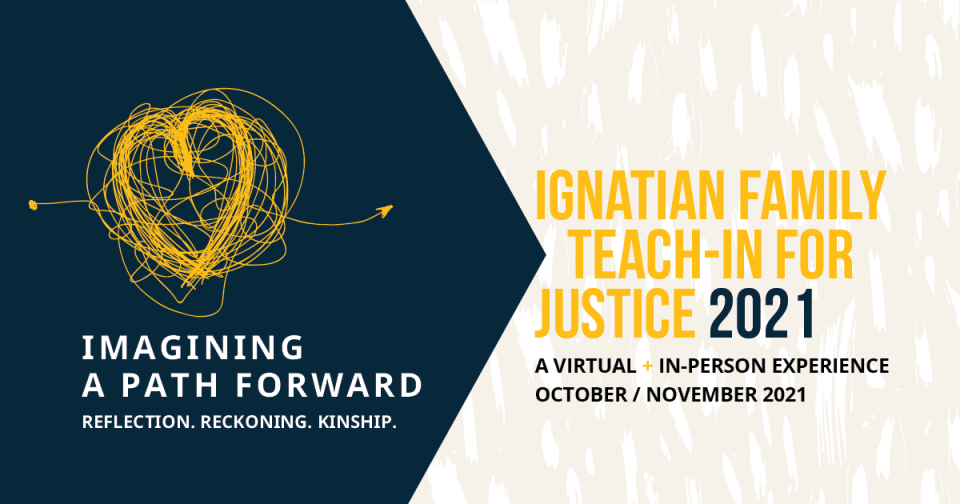 What is the IFTJ?
The Ignatian Family Teach-In for Justice, or IFTJ, is an annual gathering for members of the Ignatian family to come together in the context of social justice and solidarity to learn, reflect, pray, network, and advocate together. It is a place where people are empowered, re-energized, inspired, challenged, and supported by a community that sees faith and justice integrally linked.
When: November 4-8, 2021
Where: Washington DC
Cost due to JHS: $555 per student (this includes airfare, hotel, and registration; students responsible for cost of food and Metro on site).
The Office of Service & Justice has 8 available spots for the Jesuit High School delegation. All ages are welcome to apply, though some priority will be given to Sophomores and Juniors for the sake of building momentum for the work upon students' return. Additional financial aid available for eligible families.
*Note: As of 9/1/21, the Ignatian Solidarity Network is requiring IFTJ participants (registered attendees, exhibitors, speakers, guests, etc.) attest to being fully vaccinated according to CDC guidelines and document their vaccination date(s) and type as a part of finalizing their registration for the event.
Interested in attending with the JHS delegation?
Visit our information page and this link to access the application. The priority application deadline is Friday, September 10 by 3:30 pm. Students will also need to submit a $285 deposit to the Office of Service & Justice before this date & time to be considered for selection and reserve their place.
Questions? Contact Ms. Carroll at gabriella.carroll@jesuithighschool.org