Lenten Service Drive
Please drop off all donations in the marked bins in OSJ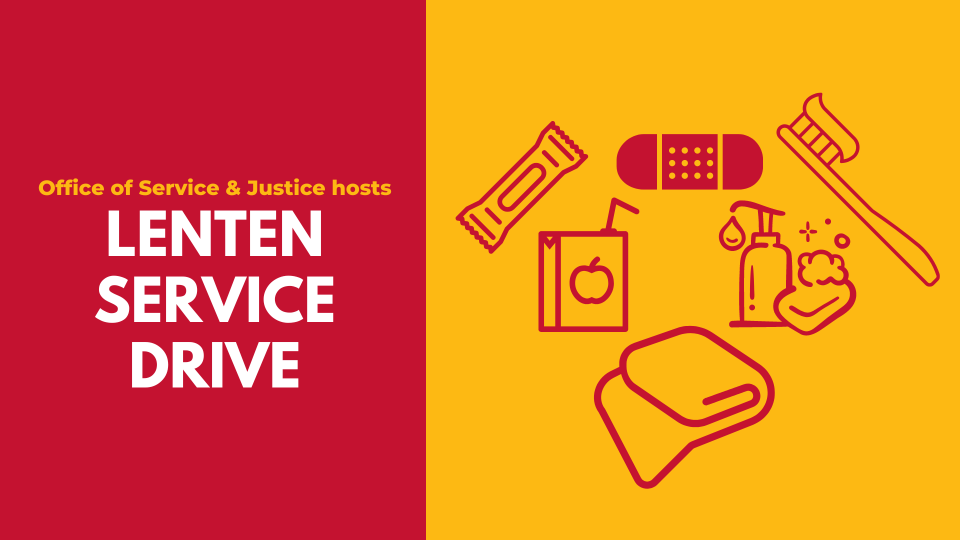 As we look ahead to the season of Lent, we invite you to consider participating in the Office of Service & Justice's "Lenten Service Drive" as a way to put our faith into action.
Each week we will ask students to bring in different items for donation. (You are most welcome to donate requested items early, but we will not be able to accept late donations due to our scheduled project assembly dates.)
Weekly Donations by Class
Thank you for your generosity and support!
Putting together hygiene kits for those experiencing homelessness and/or poverty.
Tying fleece blankets for those in need of comfort and warmth.
Collecting breakfast items for Loaves & Fishes.
Week 1 & 2 (Feb 27 – Mar 9) "Hygiene Kits"
Please log your donation of materials for hygiene kits using the sign-up link:
Sign-Up Genius Link for Kit Donations
Freshmen

Travel size toothpaste
Travel size mouthwash
Toothbrush
Deodorant

Sophomores

Travel size shampoo
Travel size conditioner
Travel size body wash
Travel size hand lotion

Juniors

Travel package of Band-aids
Chapstick
Combs / Brushes / Hair Ties
Disposable Razors

Seniors

Deck of cards
Travel package of tissues
Pads / Tampons
Travel size hand sanitizer
Week 3 & 4 (Mar 13 – 23) "Fleece Tie Blankets"
Each student – 2 coordinating pieces of fleece fabric (2 yards of each color/print)
Week 5 (Mar 27 – 31) "Breakfast"
Please log your donation of non-perisahable breakfast items using the sign-up link:
Sign-Up Genius Link for Breakfast Donations
Freshmen & Juniors

Applesauce cups
Fruit cups
Cup of Noodle

Sophomores & Seniors

Instant oatmeal packets
Granola bars
Juice boxes
Speakers & Service Schedule
Mar 9 - Justice Education Event
Thursday, Community Period in the Welcome Center
Speaker: Angela Hassell, Executive Director at Loaves & Fishes
Mar 16 - Justice Education Event
Thursday, Community Period in the Welcome Center
Documentary Screening: The Letter
Mar 23 - Service Event
Thursday, Community Period in the OSJ
Sort donations for Hygiene Kits
Mar 27 - Justice Education Event
Monday, Jesuits West Advocacy Day: sign up by February 14, 2023; information listed on Classroom and website
Mar 30 - Service Event
Thursday, Community Period in the Welcome Center
Make fleece tie blankets – sign up on MobileServe