Lenten Service Drive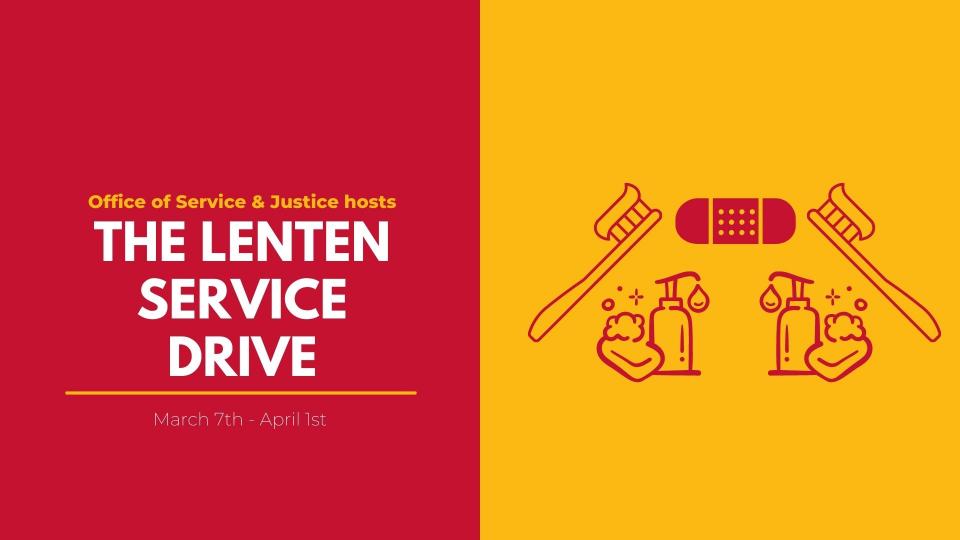 As we look ahead to the season of Lent, we invite you to consider participating in the Office of Service & Justice's "Lenten Service Drive" as a way to put our faith into action.
Each week we will ask students to bring in different items for donation. (You are most welcome to donate requested items early, but we will not be able to accept late donations due to our scheduled project assembly dates.) These items will be used during Community Period for various service projects.
Weekly Donations by Class
Thank you for your generosity and support!
Putting together hygiene packages for those experiencing homelessness and/or poverty.
Making "Love Soup" kits for migrant farmworkers.
Tying fleece blankets for those in need of comfort and warmth.
Creating "pflarn" strands that will weave together to make sleeping mats for the homeless.
Week 1 (March 7-11) "Hygiene Kits"
Freshmen

Travel size shampoo
Travel size toothpaste
Bar of soap -or- travel size body wash

Sophomores

Travel size mouthwash
Travel size hand lotion
Travel size hand sanitizer

Juniors

Travel package of Band-aids
Chapstick
Small package of tissues

Seniors

Toothbrush
Deodorant
Deck of cards
Week 2 (March 14-18) "Love Soup"
​Freshmen – Bag of dry Kidney Beans
Sophomores – Bag of dry Pinto Beans
Juniors – Bag of dry Navy Beans
Seniors – Bag of White Rice
Week 3 (March 21-25) "Fleece Tie Blankets"
Each student – 2 coordinating pieces of fleece fabric (2 yards of each color/print)
Week 4 (March 28 – April 1) "Pflarn"
Each student – 25 plastic grocery bags
(Thin and inexpensive…the thicker plastic bags do not work well for the weaving)
Schedule
Week of March 7

Service Drive
​Collect materials for Hygiene Kits

Week of March 14

Service Drive
​Collect Love Soup ingredients

Week of March 21

Service Drive
​Collect measured fleece
Service Event
During Thursday Community
Make Love Soup packets / Put together Socks of Love

Week of March 28

Service Drive
Collect plastic grocery bags
Service Event
(During Thursday Community)
​Make fleece tie blankets

Week of April 4

Service Event
(During Tuesday Community)
Make Pflarn from the plastic bags we collected the week before