Staying Connected – April 23
Parents and Friends,
Continued Easter joy to everyone, especially in these challenging weeks. As we return from what we hope was a restful break, we hope you were able to reset and prepare to finish the academic year via remote learning. Today we come to you with the core of our school — our religion, our faith.
Recently, a group of faculty and staff came together to engage in an exercise of prayer that combined art, imagination and historical reflection. We invite our parent and student community, also, to try this form of Ignatian prayer where we are asked to place ourselves in the presence of Jesus.
Using Ford Madox Brown's 1876 painting of Jesus Washing Peter's Feet and reading John 13:1-17, we can begin to imagine the feelings of Jesus and his closest friends, as we view Jesus who, with great humility, washes the feet of his disciples. This act was his way to respond to unimaginable difficulty and sadness by challenging his friends, and now in turn us, to consider how we could love more.
Today, we share this exercise to offer you a moment to imagine how you would feel in the presence of Jesus and how you can respond to his call to love more.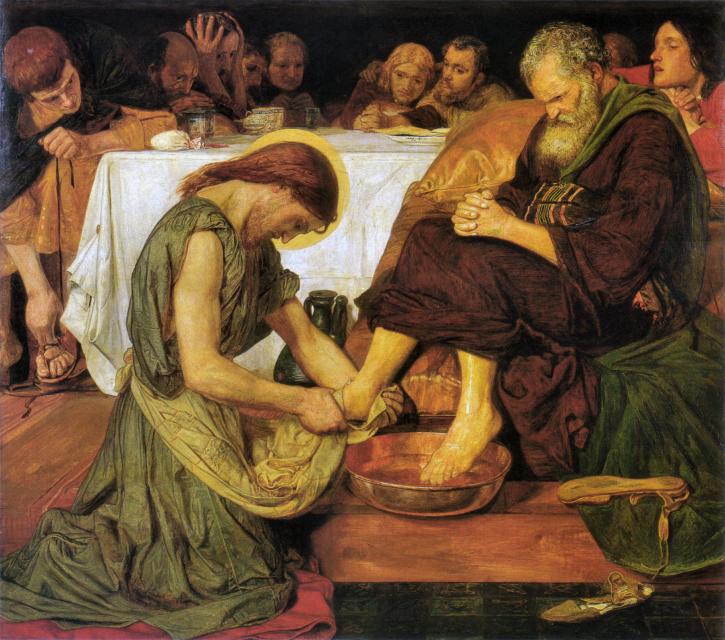 What do you see? Who might you be in the scene? How is the good spirit nudging or challenging you in this time of great uncertainty? Where do you see God at work?
We encourage you to do this as a family, or alone in quiet reflection. If you so choose, please share your thoughts with us.
Now, we turn to update you on our continued effort to adapt Jesuit Sacramento's cherished and treasured end-of-year activities to conform with guidelines for public health and safety. Below please find updates on academic support, health and wellness, and graduation.
You continue to be in our prayers as we support one another in preventing the spread of the coronavirus.
"Remember how for forty years now the Lord, your God, has directed all your journeying in the desert…" Deuteronomy 8:2
Our next update will be on Thursday, April 30 and further regular updates will continue weekly every Thursday.
St. Ignatius of Loyola — Pray for us.
Dr. Michael Wood, Ed.D and Rev. John McGarry, S.J.