Alumni Spotlight: Chase Sienkiewicz '19
Full Swing into the PGA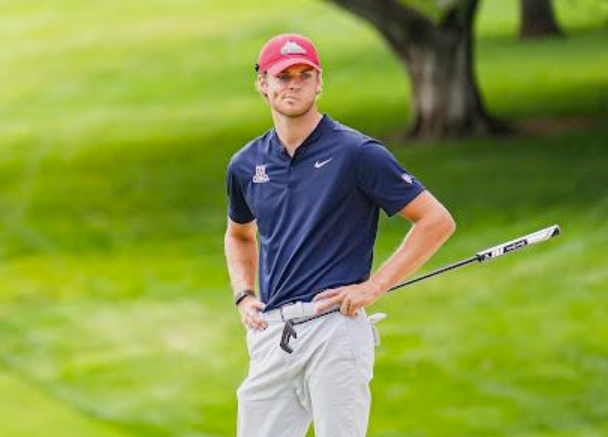 Chase Sienkiewicz played four years of basketball and golf at Jesuit High School in Sacramento, graduating in 2019, and the 6-foot-5 student athlete excelled in all he did as a Marauder.
"One of the highlights of my whole life" is how he describes his time at J-High. "The people there, the connections I made, the school itself was unbelievable. I was so blessed to go there, and now I'm so blessed to have competed in my first PGA Tour event so close to home."
Sienkiewicz made his PGA debut at the Fortinet Championship at Silverado Country Club (September 14-17 in Napa, California). His foray into the PGA was a sudden and joyous occurrence. He learned of his sponsor's exemption while preparing for the Canadian PGA Tour Fanale in Calgary. He flew straight to NorCal to make his debut in Napa. "I was overwhelmed, to say the least, when I would be competing in the event…only five days prior. But it truly was everything I expected – with a hard setup, perfect conditions, and the best players I have ever played against."
Sienkiewicz says some of the lessons he learned at Jesuit still stick with him as a member of the PGA Tour. "Jesuit taught me to step out of my comfort zone, don't be a stranger to others, and never stop pushing forward."
Before becoming a professional golfer, Sienkiewicz has become one of the longest hitters in college golf. At the University of Arizona, he had a scoring average of 71.4 over four seasons, which trails only one other Wildcat for the lowest in school history. He was also runner-up at three events in college and helped Arizona to a Pac-12 team title as a sophomore. Since graduating in spring 2023 with a degree in business marketing, Sienkiewicz has played ten events on the Canadian Tour. He finished top-10 in two of his first three but has missed the cut in three of his last five. In his PGA debut, he tied for 56th in the Fortinet Cup Championship, bringing his season earnings to $17,040.
His favorite part of being on the PGA Tour so far has simply been the golf. Being one of the few in this world who can make a career out of their sport is a tremendous achievement in itself. "My dreams have become my reality, but I always strive to keep chasing."
Looking forward, Sienkiewicz is most excited to be surrounded by the best golfers in the world. "The golf world is so small, and when you are part of a group – even the PGA - you find your people, and the game seems to get so much easier because you are surrounded by people doing exactly what you are."
"Jesuit is so proud of Chase and everything he has accomplished thus far in his career. We know the future is bright for him on and off the course, and we look forward to following him along the entire way!" shared Jesuit Alumni Associate Patrick McIntee '19.
Sienkiewicz's advice to young golfers? "Once a shot is done… it's done. Move on and go hit the next one better."
If you are a Jesuit Student interested in college/pro athletics, contact Chase Sienkiewicz on his Instagram @chase_sinko.