Cross Country Dominates at Lagoon Valley
Varsity, JV and Freshmen squads run away with team titles (Saturday, September 1, 2018)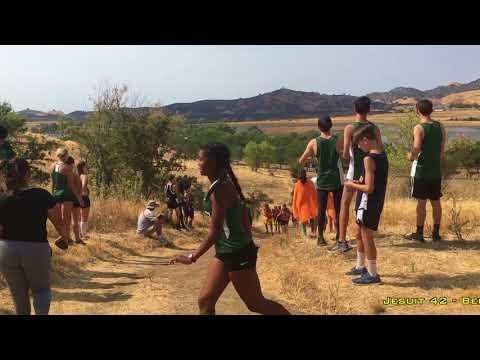 The cross country teams opened up the competitive season with team wins at 3 out of 4 levels at the Lagoon Valley Classic in Vacaville. The varsity squad scored a mere 39 points in their convincing win over second place Bella Vista and third place Davis by running over 2 minutes faster than their competitors. Junior Matt Strangio was challenged early but won the race in 15:39 while seniors Colin Ryan and Antonio Vargas showed the strength of the team by finishing 3rd and 4th overall in 16:09 and 16:11, respectively. Miles Worthen began his senior campaign with a 13th place finish in 16:37 and senior Colin Brannan rounded out the scoring in 18th in 16:46. Senior Anthony Rogado continued to impress in 24th, running 17:05, and senior Gabe Lovely finished 28th in 17:14. Senior Seamus Caslin individually earned a medal in 38th.
The junior varsity squad scored a near-perfect 18 in their win over Davis and Bella Vista on the 2-mile course. Juniors Connor King and JT Leach battled for 2nd place for the entire race with King crossing the line in 11:45 and Leach in 11:46 for 3rd. Junior Martin Smith placed 4th in 12:03 and senior Bobby Canalas placed 6th in 12:05. Junior Demetri Petuskey closed out the scoring in 9th in 12:28 and junior Eric Huitt (12:33, 11th) and senior Russell Kustic (13th, 12:37) finished before Davis' 4th man all other teams' 2nd man. Talon Krieger also individually earned honors in 25th.
The freshmen squad got a taste of the excitement in their first competitive outing in red and gold. In a tight-scoring race, Bella Vista put two runners ahead of Davis' top two, followed by Jesuit's number one Tyler Offerman who placed 7th in 12:19. Bella Vista then put in their third, but Jesuit responded with a sweep of the next 4 places in 9th through 12th to complete their scoring five. Gavin Joaquin led the way in 12:25, followed by Joey Ryan and Ian King in 12:26 and Spencer Morrison in 12:27. Davis put in another two runners with a Bella Vista athlete sandwiched between, and Jesuit's Cameron Cleland (12:40) and Harley Sherman (12:42) inflated the scores of the opposing teams by finishing before their scoring 5. Jesuit and Bella Vista both finished with 39 points with Davis back with 51, but with tie-breakers going to the 6th man, Jesuit took the title. Showing their depth by individually earning medals were Julian Curiale, Tomas Penner, Diego Levenfeld, Ryan Anderson and Drew McDonald.
The sophomores placed 6th overall behind the cross country debut of Michael Chambers, who finished 7th in 12:06. Joe Ryan ran 12:47 in 25th, just ahead of Michael Gamette in 12:48 in 26th place. Lukas Crawford (48th, 13:16) and Trey Jacobi (86th, 13:53) scored for the Marauders while Matthew Jones (97th, 14:02) and Timmy Canalas (112th, 14:17) completed the top 7.
Jesuit hosts Davis, McClatchy, Rio Americano and Inderkum next week at Willow Hill in Folsom.