Jesuit Edges Davis in League Match-up
FS and Varsity both take win behind Chambers and Strangio (Wednesday, September 26, 2018)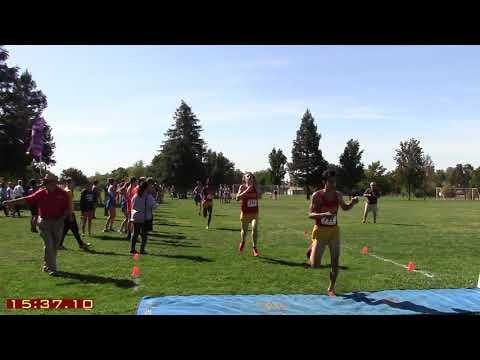 The Jesuit cross country squads emerged victorious in the first Delta League cluster meet of the year. In the varsity race, Davis were on the Marauders' heels for the entire race with the latter prevailing 26-29 over the Blue Devils behind a returning Matt Strangio who took 2nd in 15:34 behind victor Ansel Tucker of Davis. Junior Chase Gordon debuted in red and gold in 4th place in 15:36 with senior Colin Ryan close behind in 15:37 in 5th and senior Gabe Lovely in 15:38 in 6th. Davis took the next two spots but senior Anthony Rogado sealed the win for the Marauders in 9th in 15:52. Senior Miles Worthen placed 12th in 16:04 and senior Antonio Vargas placed 16th in 16:16 after taking a hard spill halfway through the race. The two teams combined to take the first twelve places and 14 of the first 15 places in the race.
The frosh-soph squad had a more decisive victory over 2nd place Davis, 23-57, behind sophomore Michael Chambers. The Marauders took 6 of the top 9 places with Chambers winning the race in 10:15. Freshmen runners took 4th-7th for the Marauders with Gavin Joaquin running 10:26, Braden King running 10:34, Tyler Offerman running 10:35 and Harley Sherman running 10:36. Frosh Cameron Cleland was just behind the pack in 9th running 10:38 and freshman Ian King placed 16th in 10:48.
The Varsity squad heads to the Stanford Invitational on Saturday while the remainder of the team races locally at the Capital Cross Challenge at Haggin Oaks.
Varsity Results
| | |
| --- | --- |
| 1. Jesuit | 26 |
| 2. Davis | 29 |
| 3. Cosumnes Oaks | 107 |
| 4. Pleasant Grove | 111 |
| 5. Sheldon | 115 |
| 6. Franklin | 166 |
Frosh-Soph Results
| | |
| --- | --- |
| 1. Jesuit | 23 |
| 2. Davis | 57 |
| 3. Pleasant Grove | 103 |
| 4. Franklin | 106 |
| 5. Elk Grove | 122 |
| 6. Cosumnes Oaks | 168 |
| 7. Sheldon | 171 |